Da Nang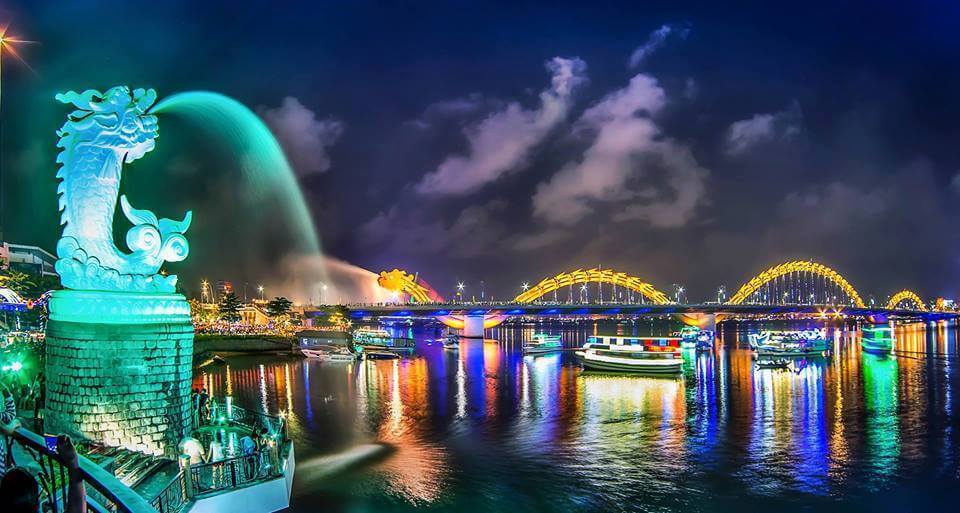 Da Nang (Vietnamese: Đà Nẵng) is the third largest city in Vietnam after Ho Chi Minh city and Ha Noi in terms of urbanization and economy and one of the major port cities, in addition to Ho Chi Minh City, Ha Noi and Hai Phong. Situated on the coast of the East Sea, at the opening end of the Han River, it is the biggest city in Central Vietnam. It is governed as one of the five direct-controlled municipalities of the central government and is thus under direct administration of the central government.
Thus, Da Nang is the commercial and educational center of Central Vietnam, with a well-sheltered, easily accessible port; its location on the path of National Route 1A and the North–South Railway makes it a hub for transportation. It is located within 100 km of several UNESCO World Heritage Sites, including the Imperial City of Hue, the Old Town of Hoi An, and the My Son ruins. The city was previously known as Cửa Hàn during early Đại Việt settlement, and as Tourane (or Turon) during French colonial rule. Before 1997, the city was part of Quang Nam-Da Nang Province.
On 1 January 1997, Da Nang was separated from Quảng Nam Province to become one of four independent (centrally controlled) municipalities in Vietnam. Da Nang is listed as a first class city, and has a higher urbanization ratio than any of Vietnam's other provinces or centrally governed cities. To help you understand more of Da Nang history, Premium Travel Vietnam gives a full understanding of Da Nang.
DA NANG HISTORY:
Da Nang was simply a modest harbor for products in transit and ship maintenance in the middle of the 16th century, when Hoi An was a bustling center of the south. When European shipbuilding improved and huge deep-draft vessels could readily enter Da Nang Bay, it gradually grew into a commercial port, displacing Hoi An in the early 18th century. Hence, Da Nang grew to become the central region's largest commercial port. Shipbuilding, preliminary processing of agricultural, forestry, and fisheries goods, as well as trade and service sectors, developed as a result.
After establishing their dominance over all of Vietnam in 1889, the French colonists detached Da Nang from Quang Nam Province, renaming the city Tourane and placing it under the administration of the Governor General of Indochina. Therefore, Tourane was built on a European model in the early twentieth century, with a focus on social infrastructure and manufacturing technologies. Agricultural production, small-scale enterprises, export product processing (tea, food, drinks, ice, alcohol, fish sauce, dried fish), ship building and repair, and services all developed and flourished. So, Tourane, together with Hai Phong and Sai Gon, became a major commerce center for the country.
Marines from the United States came in March 1965 and began constructing a large military installation. In 1967, the city was designated as a centrally administered city, and American forces and the Saigon government worked to transform Da Nang into the tactical zones' political, military, and cultural hub. Military bases were built, as well as infrastructure such as airports, ports, warehouses, highways, public works, communication stations, and banks.
n 1975, after gaining complete independence, Da Nang is now centrally governed city and one of the most liveable city in Vietnam.
WHAT TO DO IN DA NANG CITY?
CHAM MUSEUM:
Because of its originality and stunning exhibition, the Museum of Cham Sculpture is one of the greatest things to do in Da Nang. The museum houses the world's biggest exhibition of Cham sculpture, with about 300 terracotta and stone works of art spanning the 7th to 15th centuries, many of which are considered masterpieces of Cham sculpture.
SON TRA PENINSULA:
Son Tra (Monkey) Mountain, at 693 meters above sea level, is a breathtaking national park near Da Nang. It's a 35-minute drive from Da Nang, making it a favorite getaway for locals and visitors eager to get away from the city's heat and bustle. The Son Tra Peninsula, also known as the Son Tra Mountain, is bordered by beautiful beaches such as Bai Bac, Bai Nam, Bai But, and Tien Sa Beach.
During the American-Vietnam War, Monkey Mountain was an important observation base, housing two radar domes that are currently in the hands of the Vietnamese military, as well as a helicopter pad that provides for a cool lookout point.
MARBLE MOUNTAINS (NGU HANH SON):
Ngu Hanh Son (Marble Mountains) are located approximately 7 kilometers from the city center of Da Nang and contain the Kim, Moc, Thuy, Hoa, and Tho mountains, which are part of the Wu Xing (Five Elements in Chinese culture).
With stunning views from the top, beautiful caverns – Huyen Khong, Van Khong, Van Nguyet, sacred temple – Tham Thai, natural stream Giai Oan, and Non Nuoc town at the base of the mountain, Ngu Hanh Son is a complete package. Stone cutting is also a specialty of Ngu Hanh Son's.
During the 18th – 20th days of the second lunar month, you can attend the Guan Tin festival in Ngu Hanh Son. Activities include a Guan Yin statue procession, floating floral lights on the river, and various charitable endeavors.
BA NA HILLS:
Apart from witnessing the Golden Bridge, Ba Na Hills is a great site to have a good time and admire charming French architecture. Ba Na Hills is located 40 kilometers southwest of the city center and takes around 30 minutes to reach. It hosts the highest point in Da nang city where you grab the best view of the region. The complex includes a variety of gardens, a French village, a wax museum, and Le Jardin D'Amour, which is only accessible by cable cars – the longest cable car system in the world.
HAI VAN PASS:
The Hai Van Pass, at 500 meters above sea level, is one of Vietnam's imposing passes. It's on the border of Thua Thien-Hue Province and Da Nang City, with panoramic views of lush mountains and pure blue skies, as well as Da Nang City, Tien Sa Port, the Son Tra Peninsula, and the East Sea. During the Vietnam War, the pass also has a derelict French-built fort that was later utilized as a bunker by South Vietnamese and US soldiers. Hai Van is also known for sharp bends and blind corners; so let's keep an eye out when you come here by motorbikes.
THAN TAI SPRING PARK:
Than Tai – Hot Spring is a fantastic destination to take your children and family to enjoy the scenery and, of course, bathing time in a magical environment. You would undoubtedly feel better in the water if you were suffering from muscle aches and stress. There's also a Japanese onsen in the compound that looks a lot like one in Japan.
NON NUOC BEACH:
Non Nuoc Beach in Da Nang is a five-kilometer stretch of coastline in Hoa Hai Ward with smooth white sands, a moderate slope, clean seas, and mild waves all year. Visitors may eat local seafood specialties at one of the many beachfront restaurants on one of the world's most beautiful beaches, which is widely recognized as one of the most beautiful in the world.
If you want to go surfing while on vacation in Da Nang, the best time to go is between April and September, when the wave angles are at their greatest and the water temperatures are between 25°C and 28°C. In addition, inexperienced guests can take surf and stand-up paddling training.
DRAGON BRIDGE:
The Dragon Bridge is Vietnam's longest bridge, and it has a spectacular light, fire, and water show that no first-time visitor to Da Nang should miss. It is built in the shape of a golden dragon and measures 666 meters in length. It is located in Da Nang City. The six-lane bridge spans the Han River and serves as a direct access to My Khe and Non Nuoc beaches, as well as a popular photo location for tourists. After a two-year building period, the Dragon Bridge was officially opened in 2013, honoring the 38th anniversary of Da Nang's freedom. The dragon is a prominent emblem of power, royalty, and wealth, according to local beliefs dating back to the Ly Dynasty.
While it's a beautiful sight at any time of day, Dragon Bridge Da Nang is especially cool (and crowded) in the evening when it's lit up with colorful LED lights. The state-of-the-art bridge is also set to spew water or breathe flames from its mouth from 21:00 on weekends and during annual events.
GOLDEN BRIDGE:
The "Golden Hands Bridge" in Da Nang, Vietnam, which became a media sensation in 2018, is still a name that is continuously cited and has become a top destination in Vietnam. The Golden Bridge in Da Nang may not be the most cultural or spiritual thing to do in Vietnam, but it is quickly becoming one of the most popular. The Golden Bridge is part of the Ba Na Hills theme park on Mount Ba Na in Da Nang city, and is a Sun Group creation. Construction began in 2017 and the facility opened to the public in June 2018.
The Golden Bridge is built at a height of almost 1400 meters above sea level, with a total length of 148.6 meters divided into eight beats, the greatest span of which is around 21.2 meters. Da Nang Golden Bridge is a pedestrian bridge with a 3-meter-wide surface and 5-cm-thick wooden bridge materials, allowing you to enjoy and dance. The gold-plated stainless steel railing frame is the distinguishing feature that gives the product its name.
ASIA PARK:
If you come to Da Nang, let's enjoy some time at Asia Park where it gives you full of activities and wide range of choices.
Address: 1 Phan Dang Luu street, Hai Chau district, Da Nang.
WHAT ARE DA NANG SPECIAL FOODS?
FISHCAKE NOODLES SOUP (BUN CHA CA):
Due to its abundant chunks of grilled fishcakes, green onions, beansprouts, mint leaves, and fine rice vermicelli noodles, fishcake noodle soup) is famous among seafood enthusiasts. The flesh is marinated with garlic, pepper, salt, and chili before being kneaded into small pieces and grilled until thoroughly cooked, using a choice of mackerel, barracuda, or lizardfish. Meanwhile, a rich, substantial, and flavorful broth is made by simmering a mixture of fish bones, pumpkin, cabbage, pineapple, tomato, and dried bamboo shoots.
CRISPY PANCAKE:
Banh Xeo is a savory pancake prepared with rice flour, coconut milk, and turmeric that's filled with vermicelli noodles, chicken, pig, or beef slices, shrimp, sliced onions, beansprouts, and mushrooms. Banh xeo is a Vietnamese snack or appetizer that may be found at roadside booths, local markets, and restaurants in Da Nang City Center. Wrapping a crispy pancake in mustard leaf, lettuce leaf, or rice paper with nem lui (lemongrass pork skewers), mint leaves, basil, and dipping it in fermented peanut sauce is the finest way to enjoy it for VND 15,000 to VND 25,000.
MY QUANG (QUANG NOODLES):
Mi Quang is Da Nang's signature dish, made with turmeric-colored rice noodles and bone broth seasoned with fish sauce, black pepper, shallots, and garlic. River shrimp, boiled quails eggs, and roast pig are among the meat toppings, while some restaurants also add fish, chicken, and beef pieces. Finally, fresh herbs such as basil, peanuts, coriander, lettuce, cut banana flowers, and sesame rice crackers are added to the dish. Chilli peppers can also be used to add a fiery kick to the dish. A bowl of mi quang costs between VND 15,000 and VND 25,000 in any local restaurant or store in Da Nang.
VERMICELLI NOODLES WITH GRILLED PORK:
Bun Thit Nuong comprises thin vermicelli rice noodles, freshly chopped lettuce, sliced cucumber, bean sprouts, pickled daikon, basil, chopped peanuts, and mint, topped with grilled pork shoulder. Diners can also opt for Bun Thit Nuong Cha Gio, which comes with crunchy slices of cha gio (deep-fried eggrolls). As with most Vietnamese dishes, you also get a side of Nuoc Cham (Fish) sauce to mix into the Bun Thit Nuong for a flavourful ensemble.
BEST TIME TO VISIT DA NANG?
From February through May is the finest time to visit the city. The weather in Da Nang is pleasant during this time, with sunny skies and low humidity, allowing you to explore on foot or by motorcycle taxi. The beaches at Da Nang have an average water temperature of 25°C. During this time of year, you can relax and enjoy the sun while playing beach games.
HOW TO GET DA NANG?
By Airplane:
If you come to Da Nang by airplane, let's book a flight from almost big cities in Vietnam where they have many domestic flights to Da Nang Airport. Arriving here, you can grab a bus, book Da Nang Airport Transfer or catch a taxi, grab car, grab bike to Da Nang center which is around 15 minutes drive.
By Bus:
Most long-distance buses stop at Da Nang city. To get to Da Nang, travelers can take a local bus from any cities in Vietnam.
Open bus tour companies have a direct route to Da Nang. As a result, it is the most convenient way to go from Hanoi to Da Nang as well as Ho Chi Minh City to Da Nang. The bus also makes frequent stops in major cities like as Mui Ne, Da Lat, Nha Trang, Da Nang, Hue, Quang Binh, and Ha Noi. Here are several bus companies to consider: Camel Trekking, Phuong Trang, The Sinh Tourist…
By Train:
Arriving at Da Nang Train Station, you can grab a taxi or grab car/grab motorbike to come to Da Nang center. It only takes you 5 minutes. Besides, many trains run from the north to the south and vice versa with stopping in Da Nang city.
TOP THINGS TO DO FOR TOURS IN DA NANG CITY?
My Son Sanctuary and Hoi An city tour from Da Nang
BEST TRAVEL AGENT/TOUR COMPANY IN DA NANG CITY?
If you come to Da Nang and look for the best tour company or the best travel agent with the best services, do not hesitate to contact us as follows:
Website: https://premiumtravel.info/tours
Email: premiumvietnamtravel@gmail.com
Whatsapp/Viber at 0084 979613777
We highly respect your choice and make your trip a meaningful one
Copyright by Phong Nha Pioneer Travel, see the original link here