General
As you know, Phong Nha National Park in Quang Binh Province is one the most amazing caves in Vietnam. All karst mountain ranges here formed millions years ago creating such a unique cave or stalagmite/stalactite system in Vietnam. In total, Phong Nha has roughly 500 caves and grottoes, making Phong Nha the favourite spot for adventure tourists. Today, many travelers from Hue who want to come to conquer this spectacular cave so that Premium Travel Vietnam organise Phong Nha Cave Tour from Hue.
PHONG NHA PRIVATE TOUR FROM HUE ITINERARY: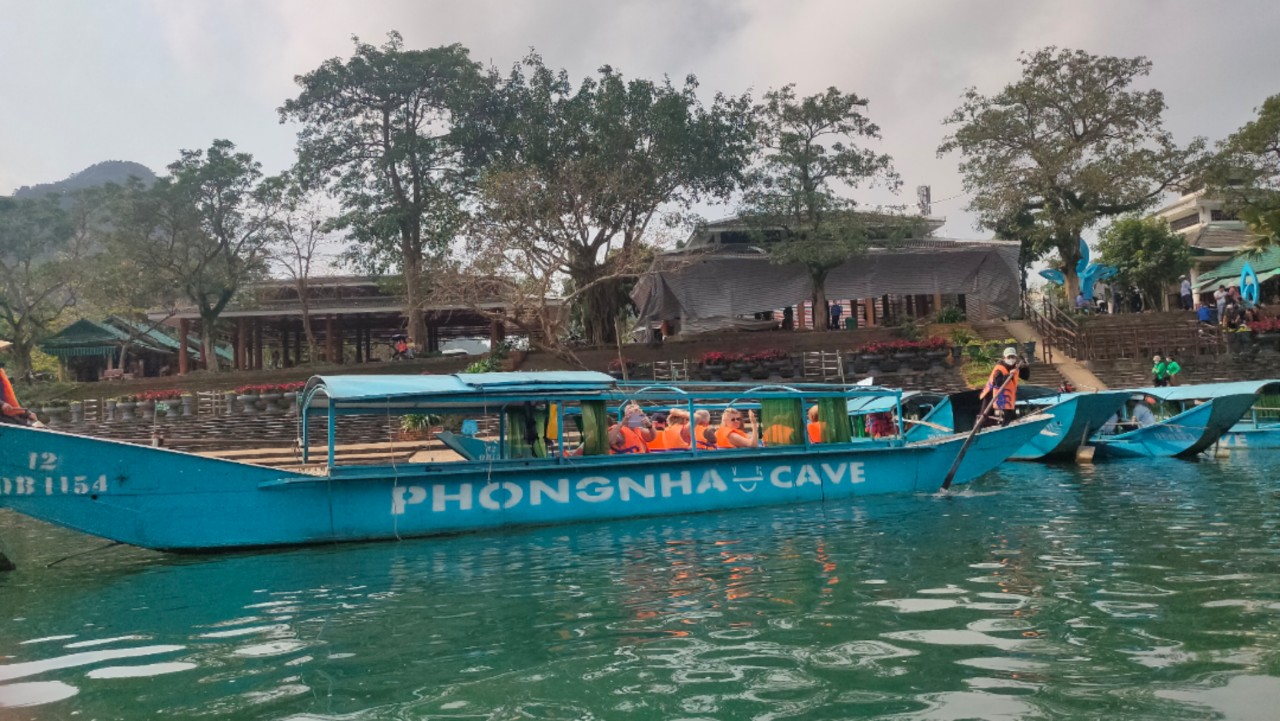 Duration: full day
Starting point: hotel in Hue
Drop off point: as above
Type of tour: Private Day Tour with car and English speaking guide
Highlights: villages – rice fields – Ho Chi Minh Trail – stalactites – stalagmites – caves – boat trip
To start with our Phong Nha Private Tour from Hue, in the morning our guide and driver from Premium Travel Vietnam will come to pick you up at the hotel in Hue and we then transfer you to Phong Nha National Park.
Ho Chi Minh Trail

Firstly, we will pass by many green rice fields, rustic villages along the way. Thus, you can see how peaceful the countryside is. Next, we drive along Ho Chi Minh Trail that played a vital role in the fighting for independence of Vietnam. Moreover, this is considered as the Legendary Road in Vietnam war.
Accordingly, North Vietnamese Army built it at the beginning of 1959 to transport weapons, foods, human supplies for the South Vietnam. The trail represented the bravery, sacrifice, solidarity of the Vietnamese people in the revolution of country's unification. As a result, North Vietnam infiltrated  into the South and they successfully invaded and took over South Vietnam in 1975 to end the war.
Later, our Phong Nha Cave Tour from Hue continues with a smooth ride over hills, jungles of the mountains and you will see massive rubber and coffee plantations on the way as well.
Boat trip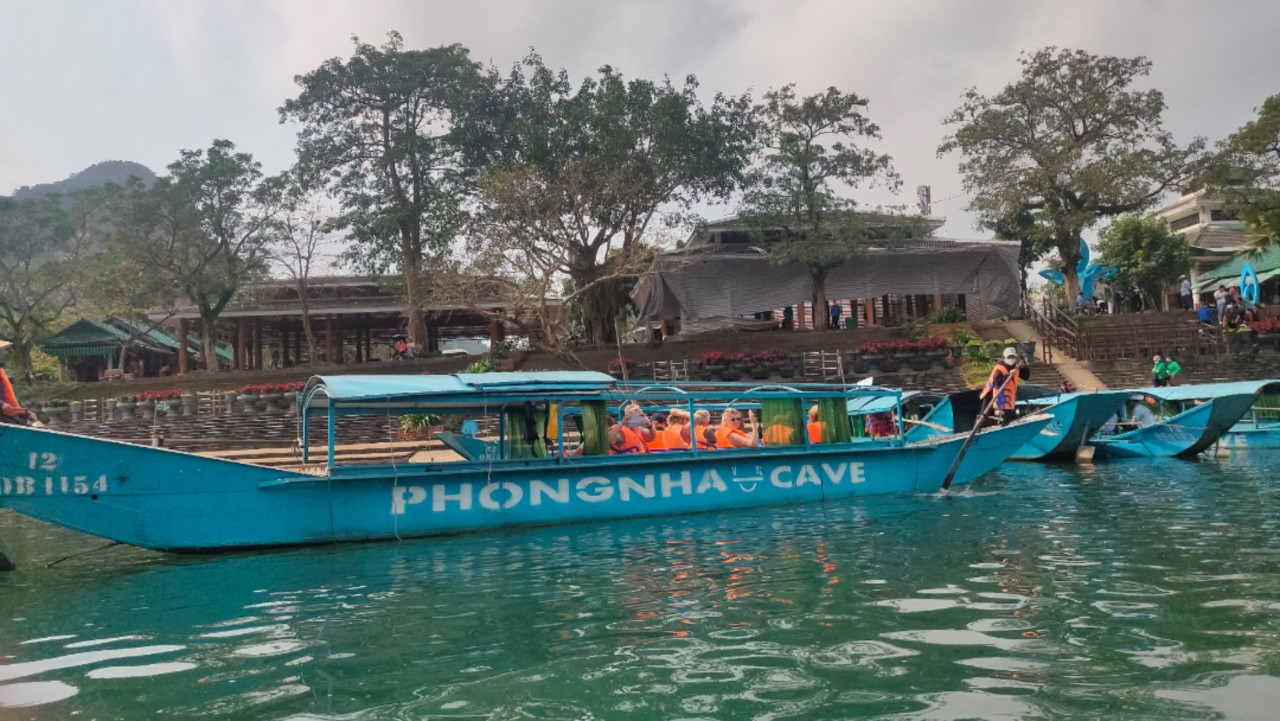 On arrival at Phong Nha National Park, we will embark on boat for boat trip approximately 30 minutes on the Son river to reach to the Phong Nha cave entrance. Along the way, the scenery in Phong Nha area comes out like a painting: the water is so blue clear water with small houses on two sides and there is the mighty mountain range in different shapes in front of us. All is like a colorful watery painting.
During the war, Phong Nha cave was a part of historic Ho Chi Minh Trail and the local people used the cave as a shelter during some battles in the 1960′. Moreover, the cave was also the place where the Cham people lived inside in the old days.
The Phong Nha Cave is so well known thanks to its seven wonderful things: the longest underground water, the widest and highest cavern entrance, the widest and prettiest sand bank and rock formation, the prettiest underground cave, the most miraculous and magnificent stalactite, the longest underground river in Vietnam, the widest and prettiest cavern and passageway.
As you know, the formation of stalactites happened millions years ago by the absorbance of water. So, this process has dissolved, washed away limestone for millions of years, creating a system of caves, grottoes inside the cave.
Visit of the cave
So upon reaching the cave entrance, the boat takes us inside the cave and you will start to admire the result of the Mother Nature. Every time we go in, lots of stalactites and stalagmites coming out look like we are being lost in a fairyland. After that, we keep going further in and exploring a part of the world's longest underground river.
Next, on the way out, we will walk on fine sand to watch more of stalactites and stalagmites coming down from the rock ceiling and rising up from the floor. As we walk up just a few steps, we can relate the picture of rock formations in the cave to the scene of Sapa in the north of Vietnam with waterfalls and terrace fields. You will definitely have a great shoot for this scenery.
After all, we come out and then continue our Phong Nha Cave Tour from Hue to visit Tien Son Cave. Hence, this cave is well known for its magical stalactites, and we can hear some sound coming out from the rocks like someone is knocking on the gongs.  Therefore, Tien Son cave is also known as masterpiece of the nature and the scenery here is just stunning.
Finally, we will walk back down stairs and take boat trip back to the dock. From here, our car and driver will transfer you back to the hotel. Then, our Phong Nha Cave Tour from Hue will come to an end here.
HOW YOU ENJOY PHONG NHA DAY TOUR FROM HUE?
Firstly, joining this tour with Premium Travel Vietnam, we will help you explore the Kingdom of Caves and Grottoes in Vietnam – Quang Binh Province. Thus, if you participate in this Phong Nha Day Tour from Hue, you will discover an eternal beauty of the nature in Phong Nha National Park. Also, we will find out the process of forming such breathtaking stalactites and stalagmites in this land. Since then, we will harmonize in this mighty nature of Phong Nha Park and we will love it more. So, Phong Nha Private Tour from Hue will bring you lot of unforgettable memories.
Stunning natural beauty
The cave itself is known for its impressive stalactite and stalagmite formations, as well as its size and scale. The interior of the cave is illuminated with colorful lights, which create a magical and otherworldly atmosphere. The tour can be quite adventurous, with some parts of the cave requiring visitors to crawl or climb through narrow passages.
"The First Wonder"
Many tourists find the Phong Nha Day Trip from Hue to be a fascinating and awe-inspiring experience, as they get to witness the natural beauty and geological wonders of the cave. The tour is typically guided by local guides who provide information about the history, geology, and cultural significance of the cave, adding to the overall educational value of the tour.
Overall, Phong Nha Cave tour is generally well-regarded by visitors who appreciate natural beauty, adventure, and geological wonders.
PHONG NHA DAY TRIP FROM HUE Price?
Price
At present, on the tour market, there are many travel agents organizing Phong Nha Day Trip from Hue, but kindly send an email to us at premiumvietnamtravel@gmail.com or reach us via Whatsapp/Viber at 0084 979613777 (Mr. Viet). We will promptly response to you and provide you the best trip with a competitive price.
Tour inclusion

Tour exclusion

– 4 – seat private car with air conditioning

– Experienced driver

– English speaking guide

– Entrance ticket

– Cold water and wet tissue

– Lunch

 

– Travel insurance

– Other expenses

– Soft drinks and beverages

– Tips and gratuities

Things to bring

Travel tip

-Fully charged camera; Sun cream; Climbing shoes; Caps/hats; Sun glasses; Insect spray;

 

In months of October, November, December, January, February; it normally rains in Phong Nha, let's bring rain coats with you. For the rest of the year, it is usually pleasant and nice.
Remarks
Tour departs from Hue city only and is conducted in a nice sunny pleasant day. We will not organize the tour in case of bad weather such as flooding, storms…
Children policy
FOC for children under 5 years old
50% charge for children from 6 to 12 years old
Full charge as adults for children over 12 years old
HOW TO BOOK PHONG NHA FULL DAY TOUR FROM HUE?
So, if you come to Hue and would like to find a professional travel agent with best services for Phong Nha Full Day Tour from Hue, do not hesitate to contact us as follows:
By tour link
https://premiumtravel.info/tours/phong-nha-cave-tour-from-hue
By Email: 
premiumvietnamtravel@gmail.com
By Whatsapp
Mr. Viet 0084 979613777
We highly respect your choice and make your trip a meaningful one
Copyright by Phong Nha Pioneer Travel, see the original link here
– THE END –