General
Motorbike rental in Da Nang city introduction:
As we know, Da Nang city is know as the most liveable city of Vietnam. In recent years, tourism in this city has been developing so quickly to meet demand of travel from both domestic and international visitors. Thus, Da Nang is blessed by Mother nature to have such beautiful tourist attractions such as Marble Mountains, Linh Ung Pagoda, Cham Museum, Ba Na Hills, Hai Van pass, Son Tra Peninsula…Besides, this city is popular with amazing bridges like Dragon Bridge, Tran Thi Ly, Thuan Phuoc, Swing Han river bridge…so it is called the city of bridges.
Many tourists choose to travel around Da Nang by car, the others choose to go by taxi, by electric cars, by their own means of transport. However, there is a means of transport that saves time and money is to go around Da Nang by motorbike or scooter, to assist customers with renting motorbike in Da Nang city, we offer our dear customers with Motorbike Rental in Da Nang city.
Should you have motorbike rental in Da Nang city?
The answer is yes. Da Nang is one of the largest cites in Vietnam. The city spreads over 30 kilometers in distance. There are various places of interests that you should visit in one day while you are in Da Nang:
Thus, rent a motorbike in Da Nang city is a very convenient way to be around Da Nang city. As soon as you book service, Premium Travel Vietnam (PTV) will deliver it to your hotel and from here, you can drive it on your own to get to close places of interests such as Hoi An Ancient Town to explore the old architectures of this ancient town, tasting Hoi An's local foods of Cao Lau, Quang Noodles, Wonton, Dumplings. In addition, you can visit Marble Mountains to adventure beautiful caves as well as visiting some of holy Buddist temples of this area. Besides, if you rent a motorbike, you can easily go to Linh Ung Pagoda on Son Tra Peninsula to sightseeing the largest Kwan Yin statue in Vietnam or visit Cham Sculpture Museum to find out Hindu culture in this country.
Especially, you can go on your way to Ba Na Hills to explore Giant Golden Bridge or conquer Hai Van Pass…Besides, rent a motorbike in Da Nang city is the most comfortable way to explore this beautiful city by yourself, you can slow down your journey and take your greatest photos. Furthermore, you will not be in hurry as you can control your time and it is easy to park your bike anywhere that is safe.
What are the ways to rent a motorbike in Da Nang city?
To have motorbike rental in Da Nang city, what you do is:
Give us some money for deposit.
Make a copy of your passport and give it to us.
Fill up the information needed. Ex: your Name, Nationality, Phone number, Email address, Hotel of staying in Da Nang, Date of leaving…
Once your information confirmed, you will sign the motorbike rental service and we will deliver our motorbike to you.
How much does it cost for motorbike rental Da Nang to Hoi An?
Generally, all motorbike rental service stores in Da Nang city will charge you for a day motorbike rental. Thus, motorbike rental fee is roughly between 120.000 VND (5.5 US $) to 200.000 VND (9 US $) per day depending on the models of motorbike. Example: automatic motorbike or manual one, new bike or old one…
Why should you rent motorbike/scooter in Da Nang with PTV?
First, we are one of top class, professional travel agents in Da Nang city. For the last fifteen years, we have been building up our reliability, our trademark to meet rising demand of the customers coming to visit Da Nang.
Next, we are committed to providing you the good quality and new motorbikes/scooters/motorcycles for your short journey while you are in Da Nang. Moreover, we also give you standard helmet for your one day trip in Da Nang.
Third, we always have motorbikes for your check up before you receive it. You do not like it, we are ready to change it for you.
Four, our motorbikes are regularly checked and maintained by our professionals so we are sure to give you smooth running of the motorbike.
Last, our motorbike rental fee is very competitive as compared to others in Da Nang.
Follow Vietnamese Traffic Regulations when riding motorbike: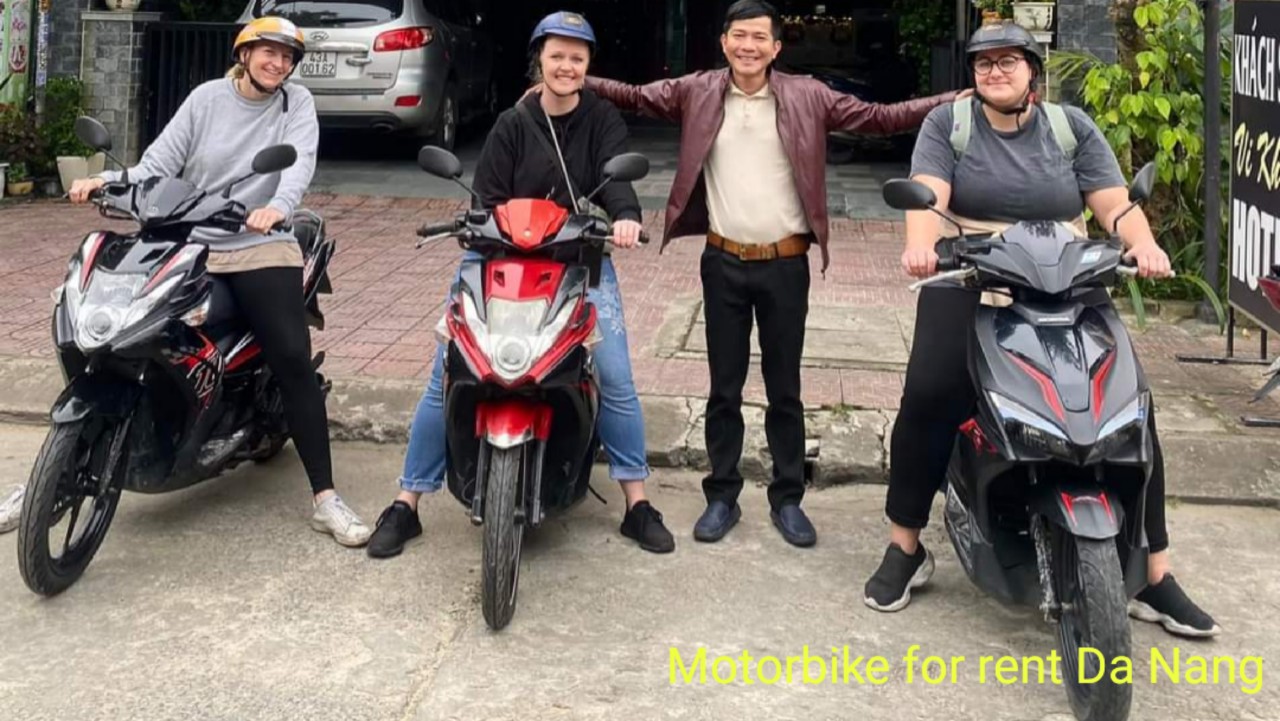 -Always wear standard helmet when on motorbike.
-No drinking alcohol when driving motorbike.
-Always ride your motorbike with two hands.
-No using phone, no texting while you are on motorbike.
-Stop when the traffic light is red.
-Before going inside the tunnels, make sure the front light is on.
-Keep a safe distance when riding motorbike.
-Limited use of honking and use signal light when turning or crossing the traffic light.
Best time to come to Da Nang: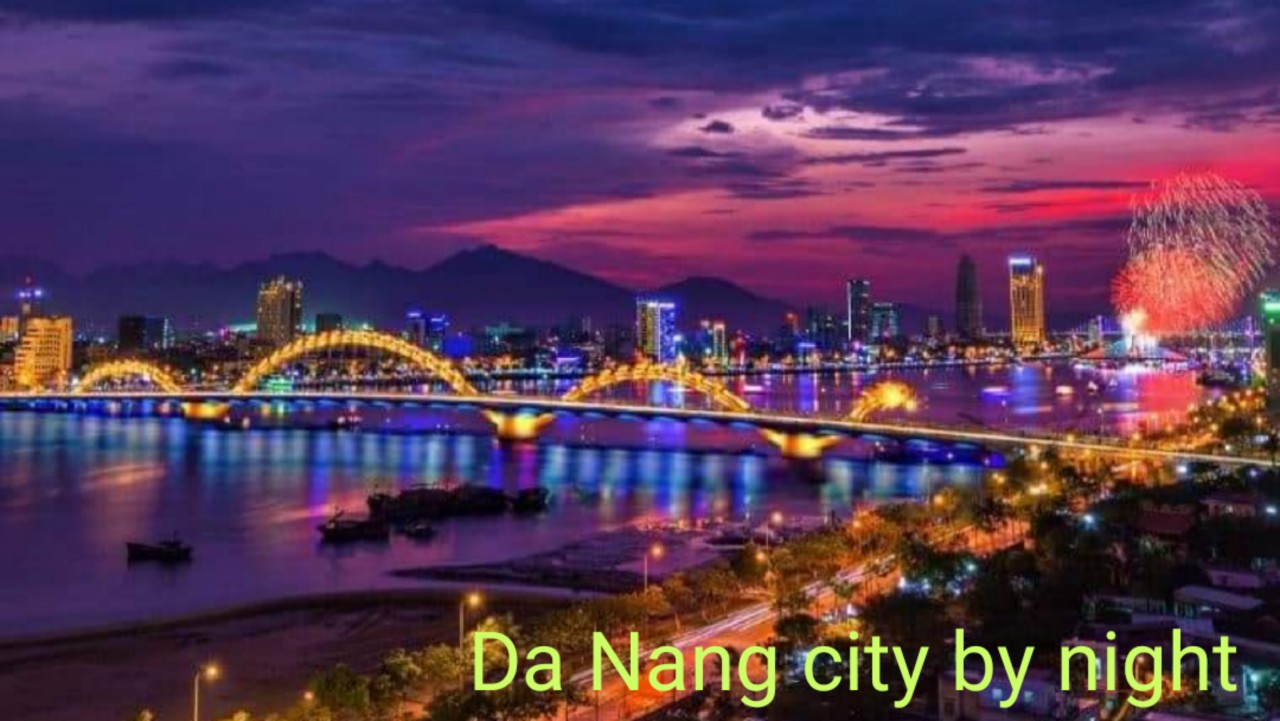 Da Nang lies in central Vietnam so the region is divided by 2 different seasons: dry and wet. Dry season lasts from March till September and Wet season is from October to February. So the best time to visit Da Nang is from March till August, at this time the city has lot of sunshine that is suitable for outdoor activities such as swimming, biking, golfing, fishing and so on.
Some of Da Nang's Tourist Attractions:
My Khe Beach:
One of the most beautiful beaches in the world. This is the best beach for swimming, body surfing, playing sports. This is truly sandy beach for any travelers.
A cluster of 5 marble mounts that are thought to stand for 5 elements: Water, Wood, Fire, Metal, Earth. The site is popular with pretty caves, grottoes and some of Buddist temples dating back hundred years ago.
Former French mountain resort in the 19th century and is now proud as Vietnam's biggest indoor amusement park. Lying at the height of 1.470m from sea level, Ba Na has pleasant weather and atmospheric outdoor activities. The place is also well know for its Golden Bridge famous globally.
Son Tra Peninsula:
A green lung of Da Nang city, it is a screen to prevent windy storms in wet season and now is home to rare animals: the red face monkeys, long-tailed macaques, yellow monkeys, brooding pythons, red-faced chickens…
Hai Van Pass:
Imposing pass in Da Nang city, spectacular landscapes with panoramic views of Da Nang Bay. The pass is also famous for its sudden curves and blind corners.
Dragon Bridge:
Highlight of Da Nang when coming to visit. It is illuminated with colorful LED lights in the night time and the dragon can spit water and fire at 9 p.m on the weekends.
If you come to Da Nang city and would like to rent motorbike in one day, you can contact me as follows:
Premium Travel Vietnam (PTV)
100 Tran Van Du, Da Nang city
Phone: 0979613777
Whatsapp: 0084979613777
Email: premiumvietnamtravel@gmail.com
Website: https://premiumtravel.info/
We are honored to serve you in a professional way.
Copyright by Phong Nha Pioneer Travel, see the original link here