General
HOI AN DAY TRIP FROM TIEN SA PORT PROGRAM
To start the trip, the guide and driver from our company will come to collect you at Tien Sa port and then we begin our Hoi An Full Day Tour from Tien Sa port.
So, our car will take you through dynamic Da Nang city with nice beaches and high rises. In 1965, American Marices landed at the Red Beach and then the war broke out. Nowadays, Da Nang has become a fast growth city of Vietnam. Also, it is considered as a city of festival such as Balloon Festival or Fireworks Festival…
On reaching Marble Mountains, we first visit this beautiful Water mount with all caves and Buddist temples built dating back centuries ago. Thus, the whole site of Marble Mountains with 5 separate mounts which are believed to represent 5 elements in Chinese concept: Water (Thuy), Wood (Moc), Fire (Hoa), Metal (Kim), Earth (Tho).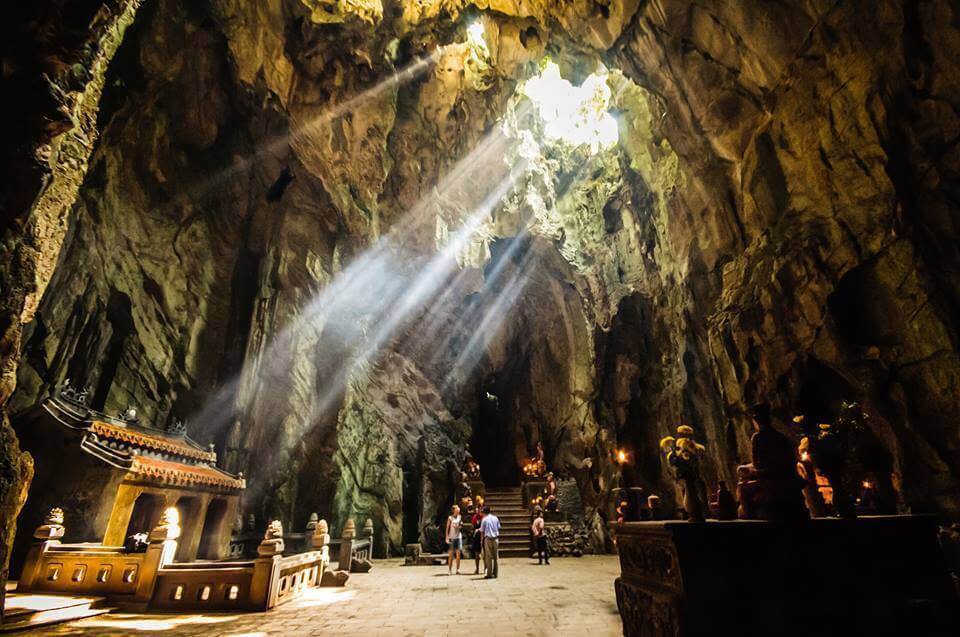 The water mount is a solemn place for Buddist and local people to come and pray for the best wishes. We then wander off around and visit 7-level pagoda, Linh Ung temple, Huyen Khong cave that was the hospital and hiding place in the war. Finally, we walk up stairs and enjoy a panoramic view of marble district at river-watching tower.
Fishing up Marble Mountains, we climb down and then we are off to Hoi An ancient town.
On arrival in Hoi An, we visit a Chinese Assembly Hall. So, it was built by Chinese community to be a meeting point or a communal house for them to come to share experience and worship their forefathers by the way. Today, the temple attracts lots of visitors thanks to its beautiful and elaborate designs. There are 3 different parts inside the temple: the front used for worshipping some Gods, the middle as ventilation and the rear to worship ancestors and God of Money.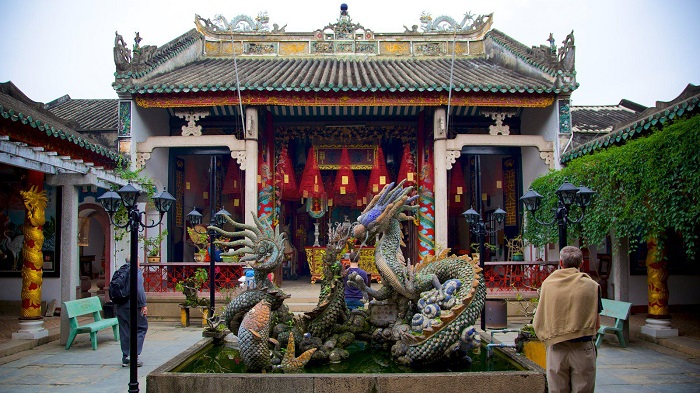 In the next place, we are then off to Tan Ky Old House in Hoi An. The house strongly reflects 3 different architectures: Chinese, Japanese and Vietnamese. The house was where a merchant shop would be in the old days and to day it is a private home for local people. We then later on go inside and admire the skillful art work of the house. By the way, we can have a talk with the host to know how they lived here in the peak times once Hoi An was a trading port.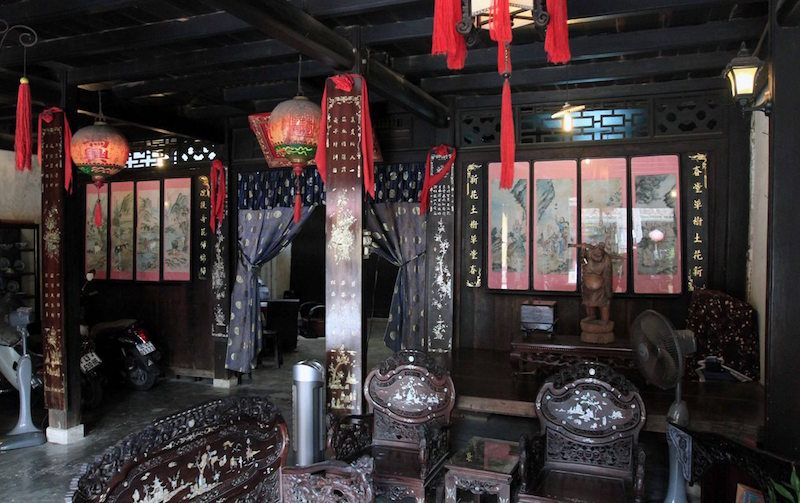 Eventually, we then head to Japanese Bridge. Therefore, the bridge was built by Japanese people for the wish that they could overcome difficulties in their life. The bridge built to connect two towns in Hoi An and today has become the symbol of Hoi An people. On two sides of the bridge are statues of monkeys and dogs while on the side is a temple built by the local people dedicated to God of Water.
Finishing the Japanese Bridge, you can have some free time to be around and then the guide will come to meet you and transfer you back to the port. Then our Hoi An Day Trip from Tien Sa port will come to an end here.
Kindly contact us at premiumvietnamtravel@gmail.com or Whatsapp at 0084979613777. We feel grateful to serve you.
Tour inclusion
Tour exclusion
– 4 – seat private car with air conditioning

– Experienced driver

– English speaking guide

– Entrance ticket

– Cold water and wet tissue

– Lunch

– Travel insurance

– Other expenses

– Soft drinks and beverages

– Tips and gratuities

Things to bring
Travel tip

-Fully charged camera; Sun cream; Climbing shoes; Caps/hats; Sun glasses; Insect spray; Shoulder covers

In months of October, November, December, January, February; it normally rains in Hoi An, let's bring rain coats with you. For the rest of the year, it is usually hot and humid.
Remarks
Tour departs from Da Nang city and Hue city only and is conducted in a nice pleasant day. We will not organize the tour in case of bad weather.
Children policy
FOC for children under 5 years old
50% charge for children from 6 to 12 years old
Full charge as adults for children over 12 years old
So, if you come to Hoi An or Da Nang and would like to find a professional tour operator with best services for Hoi An Day Trip from Tien Sa port, do not hesitate to contact us:
Website: https://premiumtravel.info/tours
Email: premiumvietnamtravel@gmail.com
Whatsapp/Viber at 0084 979613777
We highly respect your choice and make your trip a meaningful one
Copyright by Phong Nha Pioneer Travel, see the original link here