General
OVERVIEW:
As we know, the tranquil village of Phong Nha was hardly mentioned in guidebooks not long ago, but the unexpected discovery of one of the world's largest caves has rocketed Phong Nha Cave into the spotlight of adventure tourism. Phong Nha-Ke Bang National Park is a rugged stretch of limestone mountains dotted by massive caverns. Thus,there are also endangered species and ethnic minority groups that call it home. So, Phong Nha, a pleasant community on the banks of the majestic Son River, serves as the entry point to this region of adventure. To help you have a wonderful Phong Nha Private Tour from Hoi An, Premium Travel Vietnam organize Phong Nha Tour from Hoi An.
PHONG NHA CAVE TOUR FROM HOI AN SUMMARY, ITINERARY:
SUMMARY
Duration: roughly 7 hrs
Route: Hoi An – Da Nang – Hai Van Pass – Hue –DMZ – Ho Chi Minh trail – Phong Nha
Highlights: Hai Van Pass – DMZ – Phong Nha cave
ITINERARY
In the morning, the guide and driver will come to pick up you at the hotel in Hoi An and then we start Phong Nha Tour from Hoi An. We directly transfer you to Phong Nha National Park. Firstly, we will go through Hai Van Pass (Cloudy Pass) – one of the most grandiose gateways in Vietnam. We will make a stop on the pass summit for you to take some beautiful pictures.
Then, we will make another stop on the way down to take pictures of Lang Co fishing village. It is really cool sandy beach and from here, you can see a long coastline with fantastic view. To continue our Phong Nha Tour from Hoi An, we keep going on the country's National Highway passing by Lap An oyster farm. We stop en route to know oyster – a farming culture of the local Vietnamese people.
Moving on the trip, our driver continues his driving through villages, lagoons, lakes, rice paddies in Hue and we also stop en route for you to shoot a photo of water buffalo as your request.
Upon reaching DMZ (Demilitarized Zone) that marked a painful memory of the nation, we stop for a while for you to visit Ben Hai river that is only 100 meters wide but it divided the country for almost twenty years. Hence, we will stroll around DMZ to visit some relics that still exist after the war. They are Flag tower, Exhibition museum, Watching tower, old Hien Luong bridge and so on.
Moving on Phong Nha Tour from Hoi An by direct transfer to Phong Nha National Park. Therefore, the Phong Nha Park is new on the map of tourism of the country. It covers an area of roughly 200.000 ha and owns a diverse fauna and flora system. On arrival, we then take boat on Son river to see the rustic charm of the countryside. Lying in an area of 200.000 ha, Phong Nha cave that British Caving Association absolutely recognized it with seven best things: the longest underground water, the widest and highest cavern entrance, the widest and prettiest sand bank and rock formation, the prettiest underground cave, the most miraculous and magnificent stalactite, the longest underground river in Vietnam, the widest and prettiest cavern and passageway.
Reaching the Phong Nha Cave entrance, the boat man will sail inside the cave along the longest underground river in the world for you to admire amazing stalactites and stalagmites formed millions years ago by absorbance of water. As you know, this process has dissolved, washed away limestone for millions of years, creating a system of caves, grottoes that are remarkably unique in Vietnam.
To continue with Phong Nha Tour from Hoi An, we sail back then get off to walk on fine sand to imagine more wonders of the nature in Phong Nha. Thus, stalactites and stalagmites come out breathtaking everywhere you go and they seem to picture in your mind. Let's grab some of your memorable photographs before we finish the cave touring.
Finally, the boat man will transfer you back to the parking lot and then our driver will come to take you to the hotel. Our Phong Nha Private Tour from Hoi An comes to an end here.  Premium Travel Vietnam would like to say farewell to you and wishing you a pleasant stay in Phong Nha.
HOW YOU ENJOY TOUR PHONG NHA CAVE FROM HOI AN?
If joining with us in this Tour Phong Nha Cave from Hoi An, you not only discover the mighty of nature, splendor of Stalactites and Stalagmites in Phong Nha National Park. But you also have an opportunity to know more about Vietnam war by visiting some war relics around DMZ Vietnam. This trip is made to be truly amazing one for you.
TOUR PHONG NHA NATIONAL PARK FROM HOI AN Price, TOUR INCLUSION, TOUR EXCLUSION?
PRICE
If you are wondering about the tour price, kindly contact us at premiumvietnamtravel@gmail.com or whatsapp Mr. Viet (Travel manger) at 0084 979613777 for more details and assistance about Tour Phong Nha National Park from Hoi An. We will give you the best trip at a competitive price.
TOUR INCLUSION
private car with air conditioning
Experienced driver
English speaking guide
Entrance ticket
Cold water and wet tissue
Lunch
TOUR EXCLUSION
Travel insurance
Other expenses
Soft drinks and beverages
Tips and gratuities
NOTES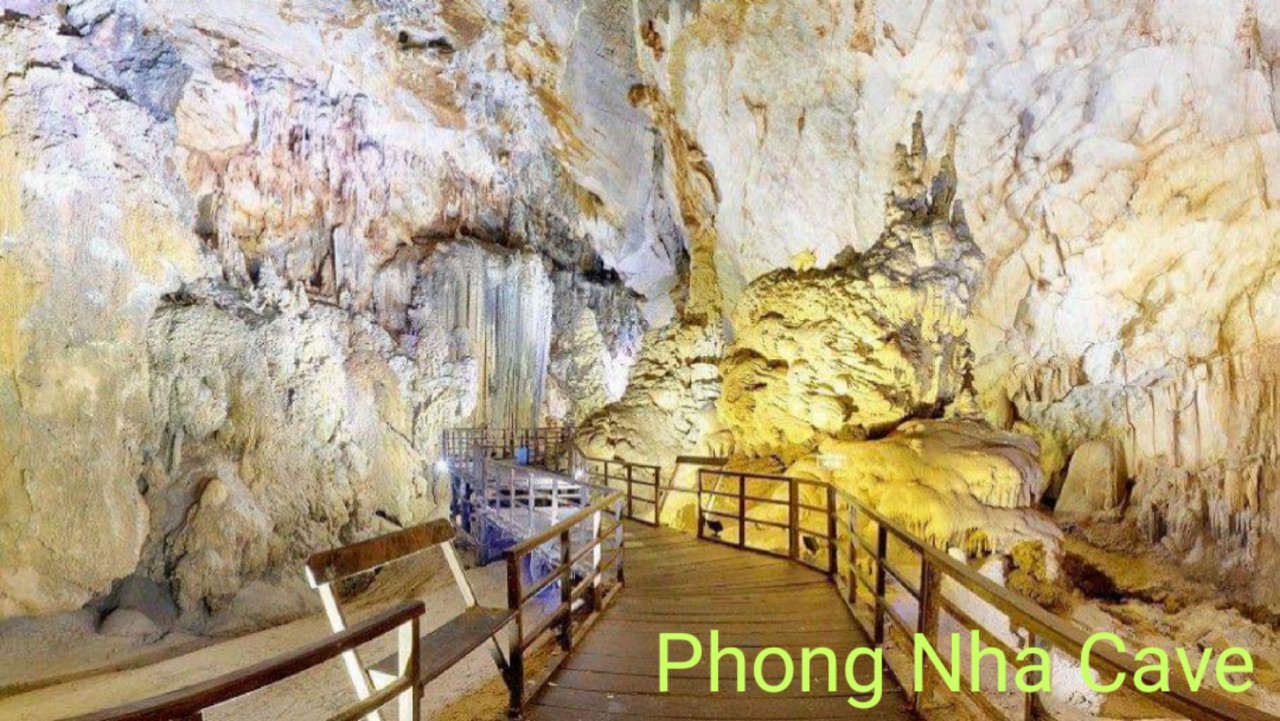 Things to bring
Fully charged camera
Sun cream
Climbing shoes
Caps/hats
Sun glasses
Insect spray
Shoulder covers
Travel tip
In September, October, November; it normally rains in Phong Nha, let's bring rain coats with you. From December to February, there is sometimes monsoon rain, please bring cold jackets. For the rest of the year, it is usually hot and humid.
HOW TO BOOK PHONG NHA PARADISE CAVE TOUR FROM HOI AN?
So, if you come to Hoi An or Da Nang and would like to find a professional travel agent with best services for Phong Nha Paradise Cave Tour from Hoi An, do not hesitate to contact us: 
Website: https://premiumtravel.info/tours
Email: premiumvietnamtravel@gmail.com
Whatsapp/Viber at 0084 979613777
We highly respect your choice and surely make your trip a meaningful one
Copyright by Phong Nha Pioneer Travel