General
OVERVIEW
For a long time, Da Nang has long been regarded as the country's most livable city, with stunning scenery that draws visitors from all over the world. Together with that, long, gorgeous beaches with clean, calm blue sea, well-known tourist spots such as Hai Van Pass, Linh Ung Pagoda, Marble Mountains, Ba Na Hills… make Da Nang one of the places you must see for your destination. Therefore, Premium Travel Vietnam lists 5 Best Day Trips from Da Nang that you can choose for your vacation.
5 BEST DAY TRIPS FROM DA NANG RECOMMENDATION
GOLDEN BRIDGE BA NA HILLS TOUR
Ba Na Hills Mountain is renowned as Da Nang's "green lung." And it must be on your travel list when coming to Da Nang city. Thus, Ba Na Hills are located at an altitude of 1.487m in the Truong Son mountain range and it serves as the summer resort for the French officials in the 19th century.
Reaching here, you will sightseeing Vietnam's high-level tourism, relaxation, and entertainment complex. As you are coming to this "fairy land", you are able to experience four seasons in one day, as well as a wide range of festival, entertainment, and culinary activities.
Itinerary
In the morning, we will pick you up at your hotel in Hoi An and start off the trip to Ba Na Hills Golden Bridge.
At arriving at Golden Bridge after completing the cable car line. The Thien Thai Garden is home to Golden Hands Bridge, amazing architectural symbol built in 2019. It was constructed with a unique structure, with a big moss-covered hand lifting the bridge.
Finishing all that, we will continue to pay a visit to Le Jardin D'Amour flower garden (consists of 9 gardens with 9 different emotions), Wine Cellar, Linh Ung Pagoda.
Later, take a short cable car ride up to the summit of Ba Na Hills where the French Village is located. This is a classical and romantic France which is complete with one-of-a-kind architectural marvels.
Walking around and sightseeing more and reach the peak of Ba Na Hills where you can grab the full view of the complex. Enjoy some of your free time and we are heading back to the car.
HOI AN MY SON FULL DAY TOUR FROM DA NANG
The second tour that we can recommend for your 5 Best Day Trips from Da Nang is Hoi An My Son Full Day Tour from Da Nang. This trip will start from Da Nang and you take an opportunity to visit two World Cultural Heritage Sites in one day. So, we are firstly heading to the former land of Champa people – My Son Sanctuary.
Located in the valley surrounded by a dense jungle, My Son Holy Land was the most important religious center for Champa people who practiced Hindu culture coming here to conduct their religious services.
Thanks to its cultural value to human kind, My Son Holy Land's temple ruins are a UNESCO World Heritage Site in December 4th, 1999. In the past, the Champa Kings built the Hindu temples between the 4th and 14th centuries and it had a typical Indian architecture for those temples.
Undergoing many natural disasters and wars, My Son Ruins is still standing and today it preserves as the place you must in while in Da Nang or Hoi An city.
So, while you visit the area, our English-speaking local guide will tell you about the history of the Champa Kingdom's center of worship.Wandering off the site, you will visit several groups of My Son from A, B, C, D, G, E, F…so you know much more about Cham culture. Finally, you are able to see a traditional Apsara dance performed by Cham people's descendants in the theater to get an insight into Champa culture.
We are then heading back to Hoi An for lunch and later on, we will enjoy a leisurely Hoi An City Tour. So, our highlights of Hoi An walking tour will be a Chinese temple, old Hoi An Merchant Houses to know about the development of Hoi An ancient town when it was the busy trading port. Visiting the symbol of Hoi An people: Japanese Bridge and finally, the guide will lead you to a performance house to enjoy traditional show.
Ending the day trip of My Son Sanctuary and Hoi An city tour is to transfer you back to Da Nang city. The tour will end here.
HUE DAY TOUR FROM DA NANG
Another 5 Best Day Trips from Da Nang that you should not miss is to have Hue city tour from Da Nang. Although the tour will take you a full day co carry out but it is worth it.
As you know, Hue was the ancient capital city of Vietnam in the Nguyen Dynasty (1802 – 1945). Because it carried a lot of history, the culture and architectures from Nguyen times so Hue Monuments Complex was listed as the World Cultural Heritage in December, 11th 1993.
Although Hue Monuments Complex has 36 relics but our highlights today will be Hue Citadel, Thien Mu pagoda and Khai Dinh Mausoleum.
As we are driving from Da Nang so we then head our trip to Hai Van pass, you can here see the best view of Da Nang city and Lang Co town. Thus, you will have a super nice view while driving and stopping for some pictures along the way.
We will go by rustic town in Lang Co and transfer you to Hue city with Hue Citadel as the first sightseeing.
Thus, the magnificent 19th-century Hue Citadel, which encompasses the Imperial City, the Purple Forbidden Palace, and a number of old sites. The most famous "Battle of Hue" occurred in 1968, during the Tet Offensive, and resulted in tremendous destruction to both the city and the Citadel — evidence of this and reconstruction work may still be seen today.
We will walk with your and show you the special architectures of Hue old monuments as well as giving you the lifestyle and the stories of Nguyen Emperors back to the old days.
Next, let's grab some of Hue's finest food in a local restaurant and then we will be off for Thien Mu Pagoda.
Locating on a hill overlooking the Perfume river, Thien Mu pagoda was the ideal spot for the Nguyen Emperors to write some poems and it serves today as one of the sacred and important religious site for Hue people coming here to make some wishes.
Upon reaching here, you not only view the landscapes of the area but your soul and mind will be going the tranquil atmosphere of this special place.
Finishing off Hue day tour from Da Nang, we are then leaving here for Khai Dinh Mausoleum – one of the most sophisticated tomb built in the Nguyen Dynasty. Built from 1920 to 1931 taking the longest time to complete, Khai Dinh Tomb preserves as one of highlights for Day Trip from Da Nang.
Upon finishing, the guide and driver will transfer you back to Da Nang city.
HOI AN ECO TOUR FROM DA NANG
Another interesting in 5 Best Day Trips from Da Nang is to have Hoi An Eco Tour from Da Nang. So, we commence the trip from Da Nang and we arrive in Cam Thanh Water Coconut village, we will jump on the bamboo basket boat to go inside the coconut forest.
Here, the boat man will tell you some stories about water coconut trees and about Vietnam war. Next, he will teach you how to paddle the boat and how to make it go. You will thus have a funny experience with the local people here.
Later, we then go further out of the jungle and enjoy the spinning boat performance. Upon your request, you can try the different feeling on your own with this unique kind of boat.
Another activity in our Hoi An Eco Tour from Da Nang is to see how a local fisherman cast a fishing net into the river for his daily life. After that, if you want to make it a try, let's jump on the boat and do it yourself. We are sure you will have an everlasting smile.
To continue the tour, we move on our tour to a place where you can jump on a water buffalo and have it a ride. You will be excited with your once in life time buffalo ride.
Next part in our tour is to reach a lovely tranquil Tra Que Vegetables village nestling on the outskirt of Hoi An. Reaching here, you are welcomed by a local herbal drink (lemon basil seed drink) and have an introduction of the village history given by the family.
Next, the local guy will show you around the garden for you to see many kinds of herbs and vegetables that people grow here such as lettuce, basil, mint, bok choi, sweet potatoes, dill, papaya, lemongrass and so on. People here work very hard to supply for whole Hoi An city and sell it in supermarket in Da Nang.
Resting for a while and you will join a small cooking show to learn how to make Vietnamese pancake and the local dish of "Tam Huu".
Adding to the tour is to have a lovely lunch and then we will take you back to your hotel in Da Nang city.
JEEP TOUR DA NANG TO EXPLORE MARBLE MOUNTAINS, SON TRA PENINSULA AND HAI VAN PASS
The last in 5 Best Day Trips from Da Nang is to enjoy Jeep Car Tour exploring Marble Mountains, Son Tra Peninsula and Hai Van Pass.
Therefore, we will come to collect you in the hotel and transfer to Marble Mountains – a cluster of five marble mounts that symbolize 5 elements in the galaxy by Vietnamese thinking including Water, Wood, Fire, Metal and Earth.
On arrival, we will walk up stairs and start to discover some temples, pagodas and beautiful caves of Marble Mountains.
Thus, we will sightseeing Linh Ung temple, Tang Chan cave, Van Thong cave and finally pay a visit to Huyen Khong cave that served as the hide out and hospital for soldiers in the war. Besides, you can grab a panoramic view of Marble district at River watching tower when climbing here.
To continue our Jeep Tour, we then head our trip to Monkey Mountain in Son Tra Peninsula. So, we will take you up to the snaking way of Son Tra Mountain. Arriving at the old U.S helicopter base, you can have just amazing photos of Da Nang bay and crystal blue water of South East Sea.
Next, the Jeep will take you to the summit of Son Tra Peninsula where you can have just fantastic view at Ban Co Peak on the summit. From here, you can see all beautiful beaches and high rises of the city along the coast.
Moving on the Jeep Tour, we keep driving along the way of Son Tra Peninsula and if we see Vooc Monkey by accident, we then stop for you to take some beautiful photograph. As you know, Son Tra Peninsula is home to Vooc Monkey which is on the list of endangered animal in Vietnam.
Reaching other side of Son Tra Peninsula, we then make our way to Linh Ung Pagoda where you can see the highest Lady Buddha statue in Vietnam (67m high). On arrival, wandering around and you can visit some of Buddist temples as well as know more Buddism in Vietnam.
Finally, our driver will transfer you to Hai Van Pass – one of imposing passes in Vietnam. The name of Hai Van means the Sea Clouds or Cloudy Pass as it is often foggy in the winter when we have cold spell from the north.
Stop at the summit of Hai Van Pass where you can have for yourself some of the best pictures of the area before our Jeep will transfer you back to the hotel.
Thus, our Jeep Tour exploring Marble Mountains, Son Tra Peninsula and Hai Van Pass will come to an end here. Premium Travel Vietnam wishes all the best and hope you have a great trip with us.
WHAT YOU EXPECT IN THESE 5 BEST DAY TRIPS FROM DA NANG VIETNAM?
See the Best of Da Nang, Hoi An areas
Conquer Monkey Mountain, Hai Van Pass by Jeep Tour
Get an insight into Champa and Vietnamese culture by visiting Hoi An ancient town and My Son Sanctuary
Visit 2 UNESCO World Cultural Heritage Sites in one day
Join some local activities to know the daily life of the local people: farming, fishing, buffalo riding
5 BEST DAY TOURS FROM DA NANG Price, Inclusion, Exclusion?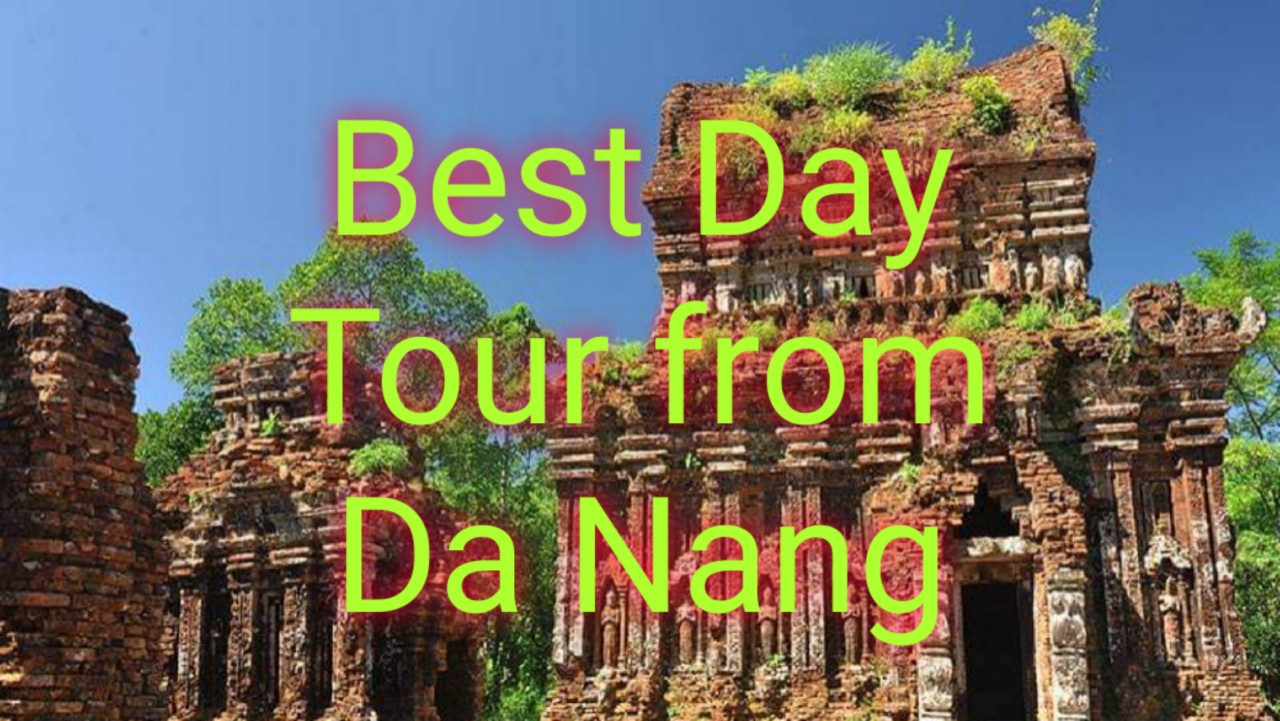 PRICE
Premium Travel Vietnam is one of the leading tour operators in Vietnam and have more than 15 years in the business industry. Let's choose us  for the Best Day Tours from Da Nang with the best price.
We always provide a premium tour service while maintaining a competitive quote for you.
TOUR INCLUSION
New air con private vehicle
Professional English speaking guide
Experienced driver
All entrance tickets
Water and tissues
TOUR EXCLUSION
Travel insurance
Tips and gratuities
Personal expenses
Other services not mentioned in the tour program
HOW TO FIND THE TRAVEL AGENT FOR BEST DAY TRIPS FROM DA NANG?
So, if you arrive in Da Nang, central Vietnam and would like to find THE TRAVEL AGENT FOR BEST DAY TRIPS FROM DA NANG, do not hesitate to contact us:
Premium Travel Vietnam Co., Ltd
Website: https://premiumtravel.info/tours
Email: premiumvietnamtravel@gmail.com
Whatsapp Mr. Viet at 0084 979613777
We will definitely make your trip with us an enjoyable one.