General
OVERVIEW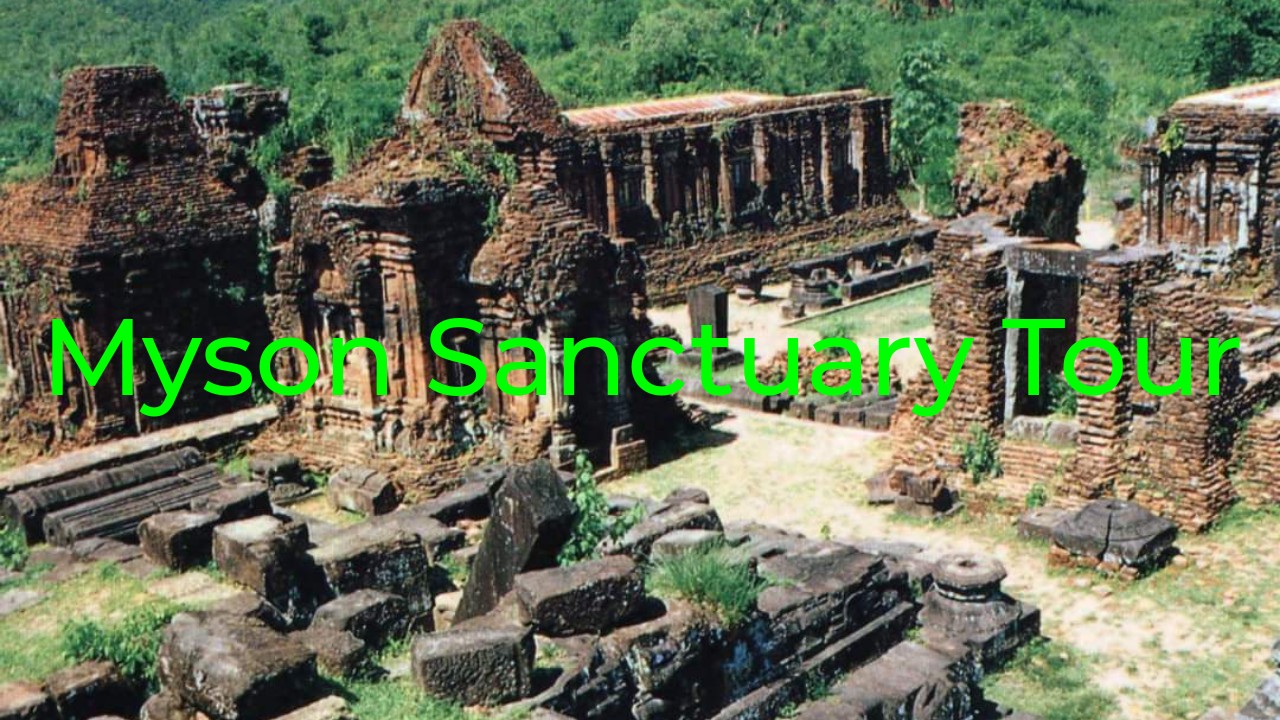 As we all know, My Son Sanctuary used to be the Holy Land for the Cham people who lived in central Vietnam for a long time. Their unique culture was greatly affected by Hinduism culture from India. Thus, the Cham built such an enormous Hindu temple complex inside the dense jungle. To find out more about the Cham culture and people, especially for those tourists stay in Da Nang, Premium Travel Vietnam would like to organizes My Son Sanctuary Tour from Danang.
FACTS OF SITE
Location
My Son Sanctuary is located in central Vietnam, approximately 40 kilometers southwest of Hoi An. This UNESCO World Heritage site is nestled amidst the lush greenery of Quang Nam Province and showcases ancient Hindu temple ruins dating back to the Champa civilization, providing a captivating glimpse into Vietnam's rich cultural history.
The name
My Son Sanctuary, also known as Thánh địa Mỹ Sơn in Vietnamese or Beautiful Mountain, is a historical site located in central Vietnam. Nestled in the Quang Nam Province, around 40 kilometers southwest of Hoi An, it holds great cultural and archaeological significance. Recognized as a UNESCO World Heritage site, My Son Sanctuary showcases the remnants of the ancient Hindu temples built by the Champa civilization. These temples, dating back to between the 4th and 14th centuries, feature intricate architectural designs and sculptures. Despite the damage caused by time and conflicts, the site still stands as a testament to Vietnam's rich historical and cultural heritage.
The function of My Son Sanctuary
My Son Sanctuary served as a religious and cultural center during the reign of the Champa Kingdom in Vietnam. The function of this ancient site was primarily as a place of worship for the Cham people who practiced Hinduism. The temples within the sanctuary were dedicated to various Hindu deities, particularly Lord Shiva. They were used for rituals, ceremonies, and offerings. My Son Sanctuary also played a role as a pilgrimage destination, attracting devotees from different parts of the kingdom. Today, it continues to hold cultural significance, providing insights into the Champa civilization and serving as a tourist attraction that preserves Vietnam's rich historical heritage.
STUDIES OF MY SON SANCTUARY
Religion in My Son Sanctuary
The religion practiced in My Son Sanctuary was Hinduism. The Cham people, who built and utilized the sanctuary, worshiped Hindu deities, primarily Lord Shiva. The temples within the site were dedicated to these gods and served as places of religious rituals, ceremonies, and offerings.
Why Champa people built My Son Sanctuary?
The Champa people built My Son Sanctuary as a religious and cultural center to honor their Hindu beliefs and deities. The sanctuary served as a symbolic representation of their devotion and played a crucial role in maintaining their spiritual connection. Constructed over several centuries, it was a place for rituals, ceremonies, and offerings. The Champa rulers and elite used the sanctuary to assert their religious and political authority, reinforcing their cultural identity. Additionally, My Son Sanctuary acted as a pilgrimage destination, attracting devotees from different regions. The site's construction demonstrated the Champa people's commitment to their religious traditions and their desire to create a lasting legacy.
Special architecture of My Son Hindu Temples
The Hindu temples of My Son Sanctuary showcase a distinctive and remarkable architectural style that reflects the mastery of the Champa civilization. The temples are built using locally sourced bricks and feature intricate and ornate carvings.
The architecture of the My Son temples exhibits a fusion of Hindu and indigenous Cham elements. The structures typically consist of a central tower, known as the kalan, surrounded by smaller towers. The towers are constructed in a stepped pyramid shape, representing the mythical Mount Meru, the center of the universe in Hindu cosmology.
The exteriors of the temples are adorned with exquisite sculptures and bas-reliefs depicting scenes from Hindu mythology, including deities, celestial beings, and epic narratives. The carvings exhibit fine detailing and showcase the artistic skill of the Cham artisans.
The roofs of the temples are adorned with decorative motifs and patterns, often resembling the shape of a serpent or dragon, which are common in Cham art.
The unique architectural style of the My Son Hindu temples reflects the cultural and religious significance of the Champa civilization, making it a captivating testament to their architectural prowess and artistic heritage.
MY SON TOUR FROM DA NANG SUMMARY, ITINERARY:
SUMMARY
Duration: half day
Highlights: Hindu temples – rice fields – Cham culture – Cham music show
Pick up point: your hotel
Drop off point: your hotel
ITINERARY
In the morning, we will come and pick you up at the hotel and then we start our My Son Sanctuary Tour from Danang. After that, we then directly transfer you to My Son Holy Land.
So, this site is the complex with really beautiful Hindu temples and towers surrounded by mountain range. As the scientists said that My Son was the ceremonial offering place and also burial site for Cham royal family. Also, it played the role of the principal religious center of Hinduism in Southeast Asia and was a designated UNESCO site of Vietnam in December 4th, 1999.
Specifically, the art and architecture of My Son Holy Land had strong Indian influences. Accordingly, the site had many group temples in which each group had main tower Kalan and some more surrounding auxiliary temples. Kalan was normally used to worship Linga or God of Shiva (most powerful God in Hinduism). All the temples had pyramidal shapes from low to high in which the highest one was compared to Mount Meru – place of Hindu God.
At present, some main towers in My Son worship a set of Linga or Shiva god. The area used to have 70 structures but 25 of which remain today. My Son built from 7th to 13th century and discovered by the French and later on they paid lots of efforts in restoring the site in 1934 but My Son had been massively devastated by the war in 1968. Although the war and severe weather in central Vietnam terribly affected My Son but some of the temples are still standing strong with time.
On arrival in My Son, our My Son Sanctuary Tour from Danang continues with golf cart transfer and then visit some of the main groups of My Son such as: B, C, D, G, E, F and H. Besides, we will then wander around and enjoy breathtaking landscape of mountains in My Son Sanctuary and admire remarkable talents and skills of Cham people.
Later, you can enjoy Cham dance show in the theater with the most featured part named Apsara and you will understand more about Cham culture and their daily working life.
Finally, we will transfer you back to Da Nang and on the way, we will have a short stop at for some pictures of rice paddy fields. Following the tour is to transfer you back to your hotel in Da Nang and our My Son Sanctuary Tour from Danang is coming to an end here. Thus, Premium Travel Vietnam wish you had the best time with us.
HOW INTERESTING MY SON PRIVATE TOUR FROM DA NANG?
Being a part in this My Son Private Tour from Da Nang, we will provide you with the best experience of Cham culture in central Vietnam. Thus, My Son Holy Land – one of the most intact and prettiest Hindu temples in Vietnam, is worth a visit from Da Nang city. Moreover, you will know about Cham people today in Vietnam with their diversified lifestyles and traditions through a traditional show performed by the local artists. 
MY SON HALF DAY TRIP FROM DA NANG PRICE, INCLUSION, EXCLUSION, THINGS TO BRING, TRAVEL GUIDE, CHILDREN POLICY?
PRICE
60 $ U.S per person (minimum 2 persons) or kindly send us an email to premiumvietnamtravel@gmail.com or whatsapp at 0084 979613777  (Mr. Viet) for more information about this My Son Half Day Trip from Da Nang. We are always at your service and happy to assist you.
INCLUSION
7 – seat private car with air conditioning
 English speaking guide and experienced driver
 Entrance tickets
 Cold water and wet tissue
EXCLUSION
Travel insurance
 Other personal expenses
 Soft drinks and beverages
 Tips and gratuities
THINGS TO BRING
Fully charged camera
Sun cream
Walking shoes
Caps/hats
Sun glasses
Insect spray
TRAVEL GUIDE
Let's start the tour in the morning in Da Nang so that we can avoid the heat in My Son.
In months of October, November, December, January, February; it normally rains quite heavily in My Son, let's bring rain coats with you. For the rest of the year, it is usually hot and humid especially in April, May, June, July.
CHILDREN POLICY
FOC for children under 5 years old
50% charge for children from 6 to 12 years old
Full charge as adults for children over 12 years old
HOW TO BOOK MY SON HALF DAY TOUR FROM DA NANG?
So, if you come to Da Nang city and would like to find a professional travel agent for My Son Half Day Tour from Da Nang, do not hesitate to contact us as follows:
Tour link: https://premiumtravel.info/tours/my-son-tour-from-danang
Email: premiumvietnamtravel@gmail.com
Whatsapp/Viber: 0084 979613777
Copyright by Phong Nha Pioneer Travel, see the original link here
Activities