Hue Citadel and Imperial City
Hue was the capital of Vietnam in Nguyen Dynasty (1802-1945). They ruled the country in 143 years and The Royal Enclosure and Forbidden Purple (called royal Palace or Imperial city) was commenced in summer 1804 under the management and direct care of  the 2 great mandarins from Nguyen family.
Royal Enclosure is rectangular in shape, the front and back faces are each 622m long. The left and right sides (east and west) are each 403m long.
Bricks were used to  build the wall which measures 4,16m, 1,06m thick and the foundation 66cm deep.  Access to it was via four gates: Ngo Mon (South front), Hoa Binh (North back), Hien Nhan (east left), and Chuong Duc (West right) surrounding the enclosure. It is 16m wide, 4m deep and the water is 1m deep. Its banks were strengthened with stones on which a parapet with the  height of 0,88m was built. Between the enclosure and the circumvolution is a piece of land 13m wide prepared for contingencies; when being attacked, the collapsed enclosure would fall down onto the land so  that the circumvolution would  not be filled and the opposing infantry would find it difficult to enter the enclosure.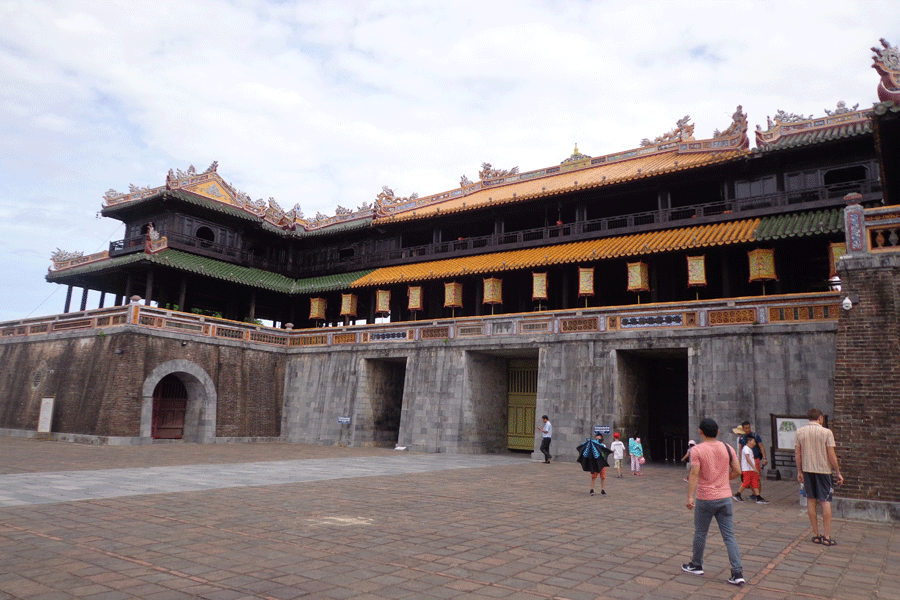 Forbidden Purple city  within Royal Enclosure was  also  built in 1804. In Gia  Long's reign, it was called "Cung Thanh".
Forbidden Purple City is rectangular in shape, the front and back  sides are each 324m long, the west and east faces are each 290m long. The surrounding wall is made of bricks, 3.72m high, 0,72m thick. The front face has only 1 gate called "Dai Cung Mon". The back face has three gates named Truong Loan, Nghi Phung and Van Phong. The right side consists of  2 gates named Gia Tuong and Tay An. The left side has 4 gates called Dong An, Cam Uyen, Hung Khanh and  Duyet Thi. The surface inside the Royal Enclosure is  divided into many small section with different function. These sections are  separated by over-people's-head bricks walls. There are especially main sections such as the section for the court's great ceremonies, the section to worship the Nguyen Emperors, the living quarter of the Emperors' others, the storage, the area for the Princes's studies and entertainments. And, the most important and biggest area is Forbidden Purple City (see the plan of the Great Enclosure).
There are more than 100 small and big constructions such as palaces, towers and lakes in the  Royal Enclosure. Most of the  constructions are symmetric through the main axis and designed unitedly in front, back, left, right, up and down positions.
If you come to Hoi An, Da Nang or central Vietnam and would like to have Hoi An to Hue Day Trip, kindly contact us as follows:
Premium Travel Vietnam
21/18 Che Lan Vien, Da Nang
Email: premiumvietnamtravel@gmail.com
Website: https://premiumtravel.info/
Copyright by Phong Nha Pioneer Travel
Categories: Blog