General
Once Hindu cultural center of the former Cham Kingdom, My Son Sanctuary is now a UNESCO World Heritage Site. Joining Small Group My Son Tour from Hoi An, we will take you to a former religious center of the Champa Kingdom. And to admire a sophisticated civilization which held sway over the region from the 4th to the 13th centuries. Today, My Son Sanctuary still lies in a beautifully green setting of hills and winding streams. To help you understand more Champa Culture, Premium Travel Vietnam (PTV) organizes Small Group My Son Sanctuary Tour from Hoi An.
I. Introduction:
1. about My Son Sanctuary
When visiting Hoi An, one of the must-see destinations in Vietnam, a small group tour to My Son Sanctuary offers a unique and enriching experience. My Son Sanctuary, a UNESCO World Heritage site, is an ancient Hindu temple complex dating back to the Champa Kingdom. Exploring this historical treasure in a small group setting has numerous benefits that enhance your overall tour experience.
2. The name of My Son Sanctuary
The term "My Son Sanctuary" refers to an ancient temple complex located in Central Vietnam, near the city of Hoi An. The word "My Son" is derived from the original Cham language, which was spoken by the Champa Kingdom that once ruled the region. "My Son" translates to "Beautiful Mountain" in English.
The My Son Sanctuary is a significant archaeological site and a UNESCO World Heritage site. It was constructed by the Champa civilization, an ancient Indianized kingdom that flourished in Central Vietnam from the 4th to the 13th century AD. The sanctuary served as a religious and political center for the Champa Kingdom and was primarily dedicated to the Hindu deity Shiva.
The complex consists of numerous brick temples and towers, which were built over several centuries. These structures showcase the architectural and artistic prowess of the Champa civilization, featuring intricate carvings, bas-reliefs, and decorative motifs that reflect a blend of Hindu and indigenous Cham culture.
3. Historical value of My Son Sanctuary
My Son Sanctuary holds significant historical value as an ancient Hindu temple complex built by the Champa civilization from the 4th to the 13th century AD. It served as a religious and political center, showcasing the architectural and artistic achievements of the Champa Kingdom. Despite damage during the Vietnam War, it remains an important UNESCO World Heritage site, preserving the cultural heritage of Central Vietnam.
II. Benefits of a Small Group Tour My Son Sanctuary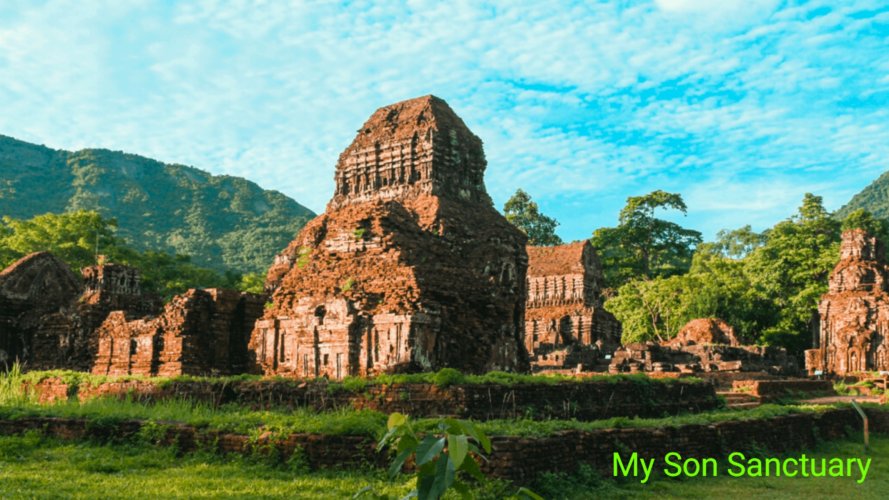 1. Personalized Experience:
With a small group tour, you can expect a more intimate and personalized experience. The smaller group size allows for better interaction with the guide, enabling you to ask questions and engage in discussions about the site's history, architecture, and cultural significance.
Navigating a complex historical site like My Son Sanctuary can be overwhelming, but a small group tour provides a hassle-free experience. The guide can lead the group efficiently, ensuring that you don't miss any important highlights while moving at a comfortable pace.
3. Enhanced Learning:
The expert guide accompanying your small group tour is well-versed in the history and cultural significance of My Son Sanctuary. They can provide in-depth knowledge, share fascinating stories, and provide insights that enrich your understanding of the site.
4. More Time and Flexibility:
In a small group, there is less time spent waiting for large groups to gather or managing a large number of individuals. This allows for more time to explore the site and take in its beauty. Additionally, small group tours often offer some free time within the itinerary, allowing you to explore specific areas of interest or take memorable photographs.
Traveling in a small group creates an opportunity to meet and interact with like-minded individuals who share a similar interest in history and cultural exploration. You can exchange experiences, insights, and recommendations with fellow travelers, adding a social element to your tour.
6. Responsible Tourism:
Small group tours often prioritize sustainable and responsible tourism practices. By choosing a small group tour, you support local communities and minimize the impact on the site, ensuring its preservation for future generations.
In conclusion, a small group tour to My Son Sanctuary from Hoi An offers a personalized and immersive experience, allowing you to delve into the rich history and cultural significance of this ancient site. With the benefits of a small group setting, you can enjoy a more engaging, educational, and memorable journey through this remarkable UNESCO World Heritage site.
III. My Son Sanctuary Group Tour from Hoi An Itinerary:
1. Pick up
In the morning, the tour guide and the driver from Premium Travel Vietnam (PTV) will come to collect you at the hotel in Hoi An and then we begin our My Son Sanctuary Group Tour from Hoi An. Thus, we will follow Highway 1A of the country and heading to the former holy site of the Cham people – My Son Sanctuary. The word means "beautiful mountain" and it became the most sacred place for the Cham people when they lived here in such a long time from 2nd to 15th century.
2. General information about the site
Thus, the complex of Hindu temples in My Son built from 7th to 13th century and it strongly reflected Indian culture when it had an enormous impact on Southeast Asia culture. Therefore, the Cham people had adapted this featured culture and enrich their culture as well as their lifestyle. Also, the Cham had chosen a holy site near the holy mountain in My Son to build up such a glorious and elegant Hindu complex inside a dense jungle.
In 1895, the French discovered My Son Hindu Temples and unearthed to find out many precious artifacts carved beautifully by artisans of Cham people. In addition, they also found out many statues and pieces that were important to the study of Cham culture later. They came to conclude that My Son Sanctuary was the most typical Hindu temple/structure in Southeast Asia.
Moreover, after many years of studies about My Son Sanctuary, scientists classified My Son temples into different groups named by letters such as A, B, C, D, E, F, H and so on. In each group, there is a main temple/sanctuary where the Cham people worship a set of Linga and Yoni – they symbolize for fertility. Besides, there are some auxiliary temples around the main one playing different roles such as gate temple, meditation hall, holy water storage…
In My Son Holy Land, all the main doors of the main temples face to the east. According to the story of the Cham, it is the direction of the Sun and it is where the Hindu Gods live.
Although the severe war in 1968 seriously affected My Son Holy Land but today there are still 20 temples remained focusing on 3 main groups of B, C, D. So, My Son is worth a masterpiece that you will not miss.
3. Arrival in My Son Sanctuary & visit the site
So on arrival in My Son, we will get transfer by golf cart and then walk into the site to explore it.
Hence, we will wander around lovely valley in My Son and firstly pay a visit to 3 main groups of B, C, D. Through story of your tour guide, you will know about the skills, talents, intelligence of the ancient Cham people. They are deserved to be the Masters of the Wall as they did not use any mortar or concrete to glue bricks together.
Continue our My Son Sanctuary Group Tour from Hoi An, we then across a small stream to sightseeing group G on the hill, later on group E, F to know more Hindu culture and custom of Cham people.
4. Enjoy the Cham music show
At My Son Sanctuary, visitors can also experience captivating Cham performances that showcase the traditional music, dance, and culture of the Cham people. These performances bring to life the vibrant traditions and rituals of the ancient Champa Kingdom, providing a glimpse into their rich cultural heritage. Through colorful costumes, rhythmic music, and graceful movements, the Cham performances create an immersive and memorable experience, adding an extra layer of authenticity to the visit to My Son Sanctuary. So, enjoy Cham dance show to have an insight into Champa culture. It is an interesting part of our Small Group My Son Sanctuary Tour from Hoi An.
5. Visit a rice paper factory
To end our My Son Sanctuary Group Tour from Hoi An, we then head back to Hoi An. On the way back, we make a stop at rice paper making family business. At this workshop, you will find out how the rice noodle or rice cracker is made. Afterwards, you can have it a try.
so, visitors have the opportunity to visit a rice paper factory and witness the traditional process of making this essential Vietnamese food staple. At the factory, you can observe local workers skillfully transforming rice batter into delicate, thin sheets of rice paper. The visit offers insights into the craftsmanship and techniques involved in producing this versatile ingredient used in various Vietnamese dishes. It's a unique cultural experience that connects you with the local food culture and traditions of the local people.
After that, we will directly transfer you back to Hoi An. Our My Son Group Tour Hoi An is coming to an end here. We wish you had the best, memorable time with Premium Travel Vietnam.
My Son Small Group Tour from Hoi An Price?
Price
Please send an email to us at premiumvietnamtravel@gmail.com for the Best My Son Group Tour from Hoi An, we will promptly response to you. Or contact us at Whatsapp at 0084 979613777. We are honored to serve you.
Tour inclusion
– Join – in comfortable mini van with air conditioning
– Experienced driver
– English speaking guide
– Entrance ticket
– Cold water and wet tissue
Tour Exclusion
– Travel insurance
– Other expenses
– Soft drinks and beverages
– Tips and gratuities
Things to bring
-Fully charged camera
– Sun cream, sun glasses
– Climbing shoes
– Caps/hats
– Insect spray
– Umbrellas or rain cold (in the wet season)
Travel tip
In months of October, November, December, January, February; it normally rains in Hoi An and My Son Sanctuary, let's bring rain coats with you. For the rest of the year, it is usually hot and humid. 
Remarks
Tour departs from Hoi An city only and is conducted in a good weather condition. We will not organize the tour in case of bad weather.
Children policy
FOC for children under 5 years old
50% charge for children from 6 to 12 years old
Full charge as adults for children over 12 years old
How to book Best My Son Group Tour from Hoi An?
1. Booking reservation
A. Online Booking:
Visit the official website of the tour operator or travel agency offering the My Son Sanctuary tour. Look for the specific tour package that includes a visit to My Son Sanctuary, and follow the instructions to make a reservation online. Fill in the required details, select the preferred date and time, and proceed with the payment process as indicated on the website.
B. Travel Agency:
Contact a local travel agency in Hoi An or a nearby city that offers tours to My Son Sanctuary. Inquire about the availability, tour options, and prices. Provide them with your preferred date and time for the visit and any additional information they may require. They will assist you in making a reservation and provide you with the necessary booking details
So, if you come to Hoi An or Da Nang and would like to find a professional travel agent for My Son Group Tour Hoi An, do not hesitate to contact us:
Website: https://premiumtravel.info/tours
Email: premiumvietnamtravel@gmail.com
Whatsapp/Viber at 0084 979613777
We highly respect your choice and make your trip a meaningful one
Copyright by Phong Nha Pioneer Travel, see the original link here
2. Reservation requirements and payment details
A. Reservation requirements:
To secure the tour, please deposit some for us to maintain the trip or you can pay the trip after the tour ends.
B. Payment details
Kindly contact us by whatsapp +84 979613777 for details of payment for the trip
Question (Q): How far is My Son Sanctuary from Hoi An?
Answer (A): In Vietnam, the My Son Sanctuary is situated about 40 kilometers (about 25 miles) southwest of Hoi An. Depending on traffic and the state of the roads, the drive from Hoi An to My Son Sanctuary may take between one to one and a half hours. The area's most well-known tourist destination is the UNESCO World Heritage Site, which is well-known for its historic Hindu temples and ruins. To ensure a smooth and economical trip to the My Son Sanctuary from Hoi An, it is advised to book your trip in advance, whether by guided tour, private vehicle, or other means.
Q: Is My Son Sanctuary worth a visit?
A: the My Son Sanctuary is definitely worth visiting, especially if you're interested in history, archaeology, and ancient architecture. Here are a few reasons why it's worth a visit:
1. Historical Significance:
My Son Sanctuary is a UNESCO World Heritage Site and was the religious and political capital of the Champa Kingdom for many centuries. It holds immense historical significance and offers insights into the ancient culture and architecture of the region.
2. Architectural Beauty:
The sanctuary features a complex of Hindu temples that were built between the 4th and 14th centuries. The intricate carvings, decorative motifs, and unique architectural style showcase the mastery of the Champa craftsmen.
3. Cultural Experience:
Exploring My Son Sanctuary provides an opportunity to learn about the Champa civilization and its religious practices. The site offers a glimpse into the spiritual and cultural beliefs of the people who inhabited the region centuries ago.
4. Natural Setting:
The sanctuary is situated in a lush valley surrounded by mountains, adding to its natural beauty. The setting enhances the overall experience of visiting the site.
5. Educational Value:
If you're interested in history and archaeology, visiting My Son Sanctuary can be an educational experience. Guided tours and informational displays provide insights into the historical context and significance of the site.
6. Photography Opportunities:
The intricate details and the scenic surroundings offer excellent opportunities for photography, making it a great place for capturing memorable moments.
7. Combination with Other Activities:
Many visitors combine a visit to My Son Sanctuary with other attractions in the region, such as exploring Hoi An's Old Town or taking a boat ride on the Thu Bon River.
Keep in mind that while My Son Sanctuary is worth visiting, it's important to manage your expectations. The site has suffered damage over the centuries due to factors like weather, time, and the Vietnam War. Restoration efforts have been ongoing, but some structures may appear less preserved than others.
Overall, if you have an interest in history, architecture, and exploring ancient ruins, My Son Sanctuary is a unique and valuable destination to include in your itinerary while visiting Hoi An and the surrounding area.
Q: When is the best time to visit My Son Sanctuary?
A: It is recommended to visit My Son Sanctuary between February and August, which is considered the dry season. To assist you in making travel arrangements, the following is a description of the several seasons and their attributes:
1. The dry season:
Which lasts from February to August, is thought to be the best time to visit My Son Sanctuary. However, with increased humidity and shower rain between June and August, the weather is quite dry and hot. Without the threat of heavy rain, the location is simpler to explore, and the clear skies make it easy to take pictures and just appreciate the surroundings.
2. Rainy Season(September to January):
September through November are the wettest months of the year. Rain can make a location appear more lush and gorgeous, but it can also make the ground muddy and dangerous. Furthermore, the weather can be erratic at this time, and heavy rains may make your vacation less enjoyable. This can still be a good time to go, though, if you don't mind the occasional downpour and want to experience the place in a fresh setting.
– THE END –