General
HUE STREET FOOD TOUR OVERVIEW: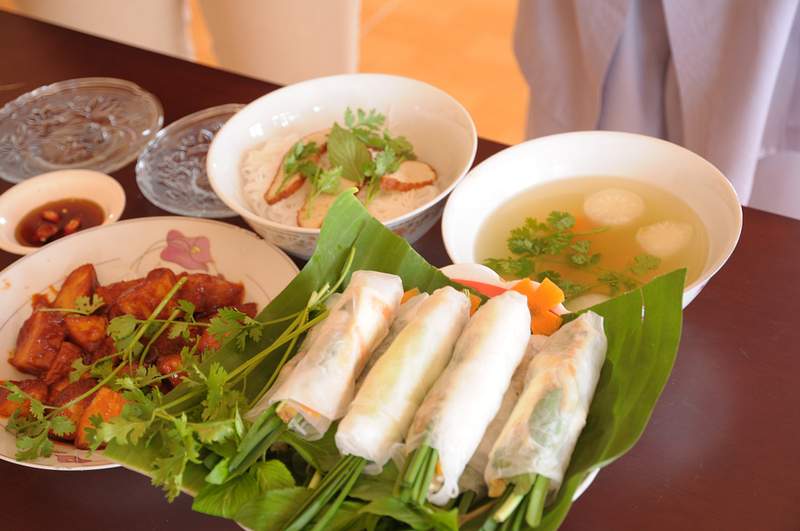 Hue was the ancient capital city of Vietnam under Nguyen Dynasty (1802 – 1945). Due to leading by the Nguyen Royal Family, therefore Hue Food or Cuisine was considered as the most luxurious, complicated and tasty ever.
Talking about Hue Food, we not only count for the quality of the food but the appearance also plays an important role.
Through many centuries, Hue cuisine was greatly influenced by this culture, making it one of the best in Vietnam. Hence, Hue cuisine can rightfully be described as both culture and art.
So, the best way to learn about its culture is to sample some of Hue's unique food, which includes many traditional Vietnamese delicacies.
Visitors coming to Hue City should take advantage of the opportunity to learn about Hue city's cuisine, culture, and street food. Therefore, Premium Travel Vietnam organize this HUE STREET FOOD TOUR BY CYCLO for you.
HUE FOOD TOUR HIGHLIGHTS:
Sampling some of the Best Hue's street food
View beautiful Hue streets at night
Relax on cyclo
Good way to take pictures
Knowing about Hue's cuisine culture
TOUR SUMMARY:
Duration: 3 hrs
Departure time: 05 p.m
Pick up: your central located Hue hotel
Drop off: your central located Hue hotel
HUE STREET FOOD TOUR ITINERARY:
We will start our Hue Street Food Tour with the pick up at your hotel and then we begin our trip on rickshaw (cyclo). Thus, our cyclo riders will take you through busy streets of Hue city in the afternoon, so you can have a chance to see the daily life and the local people. Also, you can see how the busy traffic in Vietnam in rush hours but no worry, we will make sure we drive at our slow pace and safe driving.
So the first place we take you to is Hue Banh Khoai (Hue Pancake). This is a small place hiding in back street of Hue where the locals come and enjoy. Our guide will tell you how to wrapp Banh Khoai in Hue style, thus you can feel about this special dish of Hue people, especially when you dip Banh Khoai into the sauce.
Continue our Hue Food Tour, our journey proceeds to enjoy Bun Bo Hue (Hue Beef Noodle). So, this special dish originally comes from Hue and now it is widely distributed throughout the country. Hue people usually call it Bun Bo Hue and the main ingredients are vermicelli, beef, pork sausage, traditional broth cooked with lemongrass and cow bones to have a flavorful tasting.
To eat Hue Beef Noodle, people often put some herbs for topping and it goes with a bowl of chilli sauce if you want it to be more heavy taste.
Next, our Hue Food Tour move onto with Banh Ram It Hue (Hue Fried Sticky Rice Dumplings). As you know, this is the folk cake served for the Nguyen Emperors in Hue back to the old days and it now becomes unevitable dish for Hue people when they have special celebrations.
Besides, Banh Ram It will include two parts: banh Ram indicates Fried Sticky Rice pancake underneath and it goes with the Steamed Sticky Rice Dumplings on top. Therefore, two componants go together and you dip into the fish sauce and spicy green chili.
Adding part to our Hue Street Food Tour by Cyclo, it will be a miss if you not try Hue Grilled Chopped Meat (Hue Skewer Pork). So, it will include green vegetables such as lettuce, cucumber, green mango, star fruit, pickled carrot and green papaya, fig, and mint which are frequent fillers in rice paper. To eat this, you will make a roll then dip in the sauce with sugar, chopped garlic and chili, lime or vinegar.
Next, our Hue Street Food Tour will take you to sample Grilled pork vermicelli (also known as Hue Noodle BBQ Pork). Thus, this dish is very popular in Vietnam but it carries a different taste in Hue as it got more flavors. And this food will consist of fresh rice noodle, green salad (lettuce, bean sprout, pickle carrot and papaya), pickle and peanut sauce topping with roasted peanut sprinkled.
Eventually, the guide and cyclo riders will take you to try Hue sweet dessert, you can have Che Hat Sen (Lotus dessert), Che Nhan Boc Hat Sen (Longan Stuffed Lotus Seed), Che Bap (corn), Che Troi Nuoc (Sticky rice cake and green pea paste), Che Khoai So (taro), Che Dau Xanh (Mungs Bean), Che Dau Do (red bean). Through the trying of Hue desserts, you will know about the royal sweet desserts for Nguyen Emperors in the old days.
HOW YOU ENJOY HUE STREET FOOD TOUR?
Explore Hue in late afternoon by Cyclo (Rickshaw)
Watch the daily life of Hue people
Enjoy some of Hue's best street food
Know about Hue's food culture
HUE FOOD TOUR INCLUSION AND EXCLUSION?
TOUR INCLUSION
5 dishes of Hue Street Food with one dessert
Cyclos
English speaking guide
One bottle of water
TOUR EXCLUSION
Beverages and other foods not mentioned in the tour itinerary
Personal expenses
Covid insurance
Tip and gratuties
HUE FOODIE TOUR CANCELLATION AND CHILDREN POLICY
TOUR CANCELLATION
Prior more than 7 days: 10% of total rates.
Prior from 4 to 7 days: 50% of total rates.
Prior less than 3 days: 100% of total rates.
No-Show: 100% of total rates.
CHILDREN POLICY
Child under 5 years old: FREE of charge
Child from 6 to 10 years old: 50% charge
Child from 11 years old and above: 100% adult rate
HUE FOOD TOUR PRICE & HOW TO BOOK?
TOUR PRICE
Hue is the paradise for Street Food Tour in Vietnam, please contact us by Whatsapp at 0084 979613777 (Mr. Viet) for the best quote of Hue Food Tour. We will offer you a very competitive price
HOW TO BOOK
So, if you come to Hue ancient capital and would like to sample some of the Best Hue Food Tour by Cyclo, do not hesitate to contact us:
Website: https://premiumtravel.info/tours
Email: premiumvietnamtravel@gmail.com
Whatsapp/Viber at 0084 979613777
We will definitely make your Street Food Tour Da Nang an enjoyable one.
Copyright by Phong Nha Pioneer Travel, see the original link here