General
OVERVIEW:
Hue Bike Tour helps you explore a small, relaxing city of Vietnam. Travelers coming to Hue not just only visit sightseeings by car but they also like to do Hue Biking Tour to feel a peaceful soul, a slow life of the city . That's why Premium Travel Vietnam (PTV) organize Hue Bicycle Tour. So, this trip helps you out explore Hue's rustic countryside by bicycles. You can feel and have a deep understanding of Hue local culture.
HUE BIKE TOUR PROGRAM: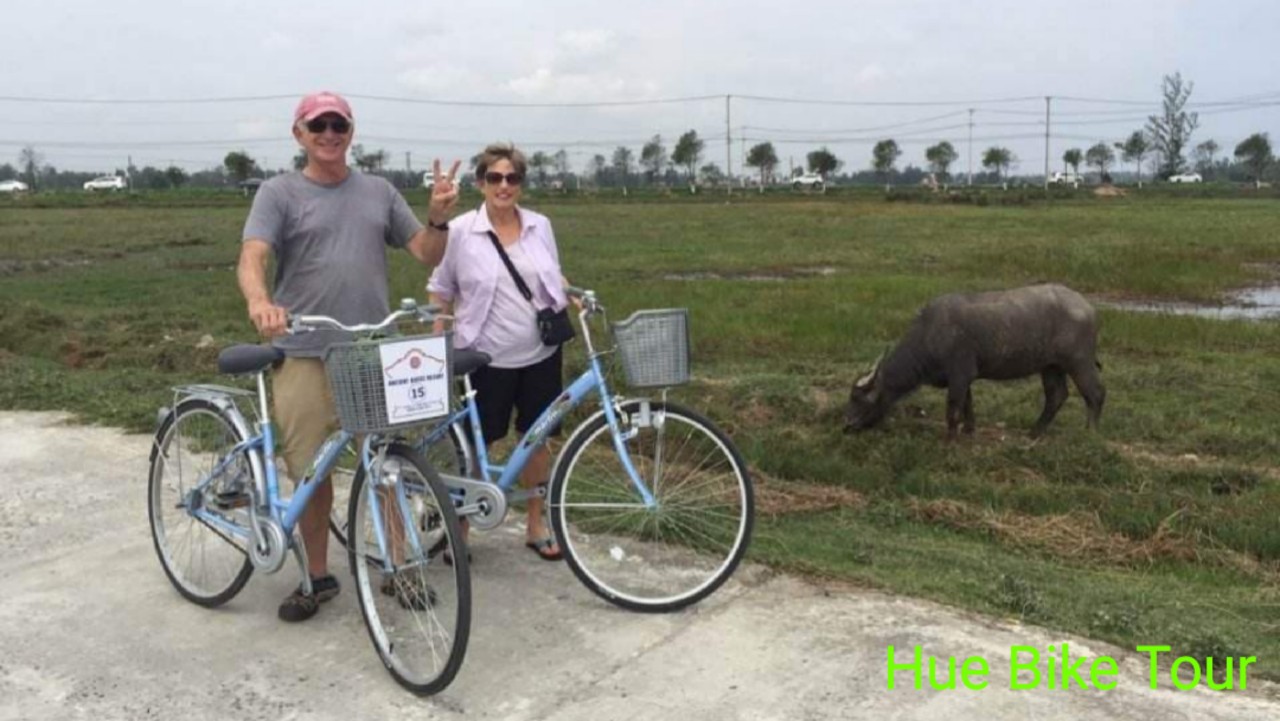 SUMMARY
Duration: full day
Highlights: garden house, local handicrafts, tombs, palaces, temples
Pick up place: your hotel
Drop off: your hotel
HUE CITADEL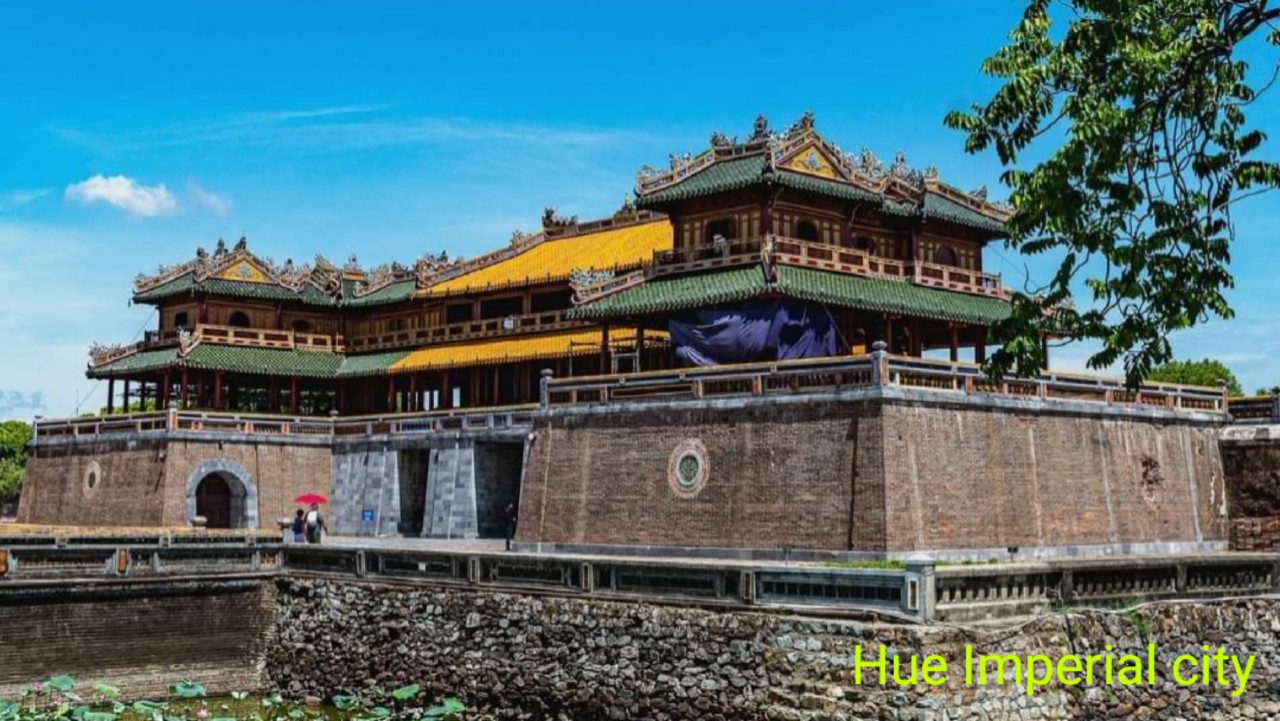 Start off the day by meeting you up at the hotel in Hue and we begin our Hue Bike Tour. Thus, the journey starts with a leisurely cycling through Hue and heading to Hue Citadel. This is the former living quarters for Nguyen family when the city was the capital (1802-1945).
On arrival, we will leave our bikes and then walk into the Citadel. Hence, we then stroll around and visit Hue Imperial Gate then Thai Hoa Palace, followed by a visit to Royal Theatre and Dien Tho Residence. Through the guidance by your local guide, you will know more history of Hue as well as the living lifestyle of the royal family in the past.
GARDEN HOUSE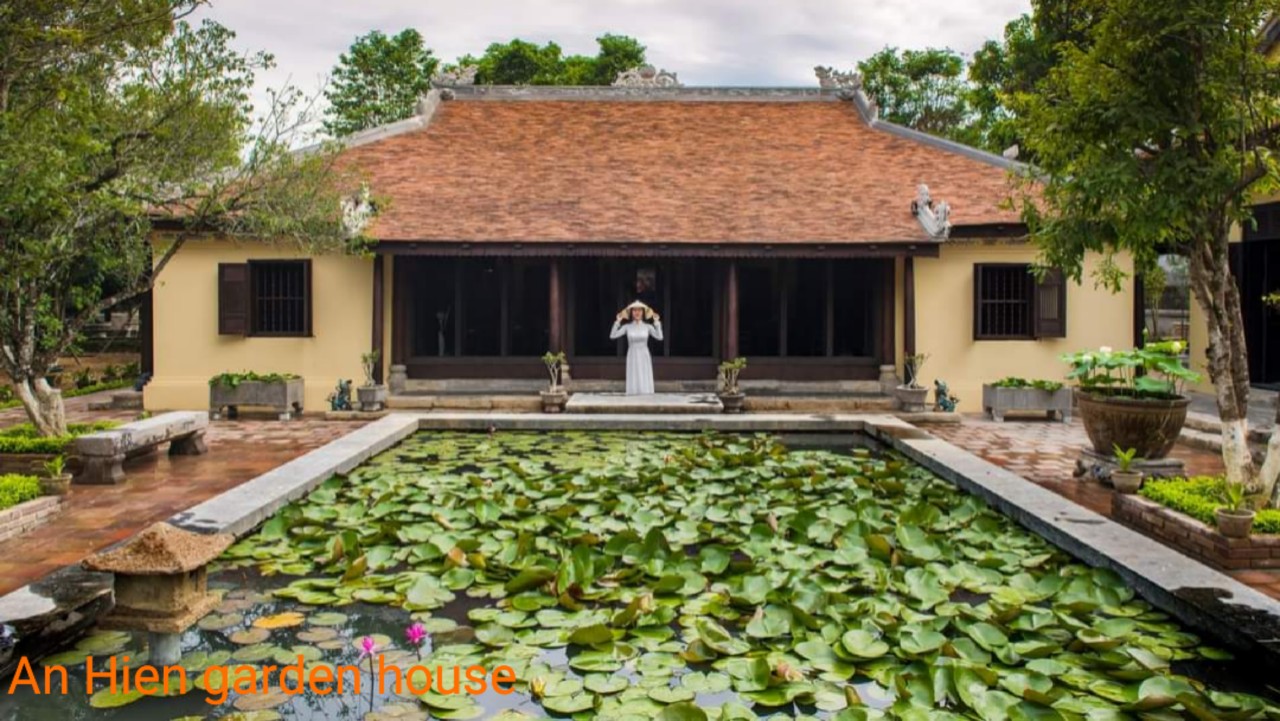 To continue our Hue Bicylce Tour, we then hop on our bikes and cycle heading to a Hue Garden House. So, Hue is the greenest city of Vietnam; this city has various green trees and many parks providing playground and recreation spot for city residents. In former times, many Nguyen mandarins and officials had chosen to build many garden houses in Kim Long area as the summer holidays.
Reaching An Hien Garden House, we then move into the house, listen to the owner telling you history and architecture of this special place. Later on, we walk around the garden and see the daily life of the owner. By the way, you can know many kinds of fruits grown inside the garden.
THIEN MU PAGODA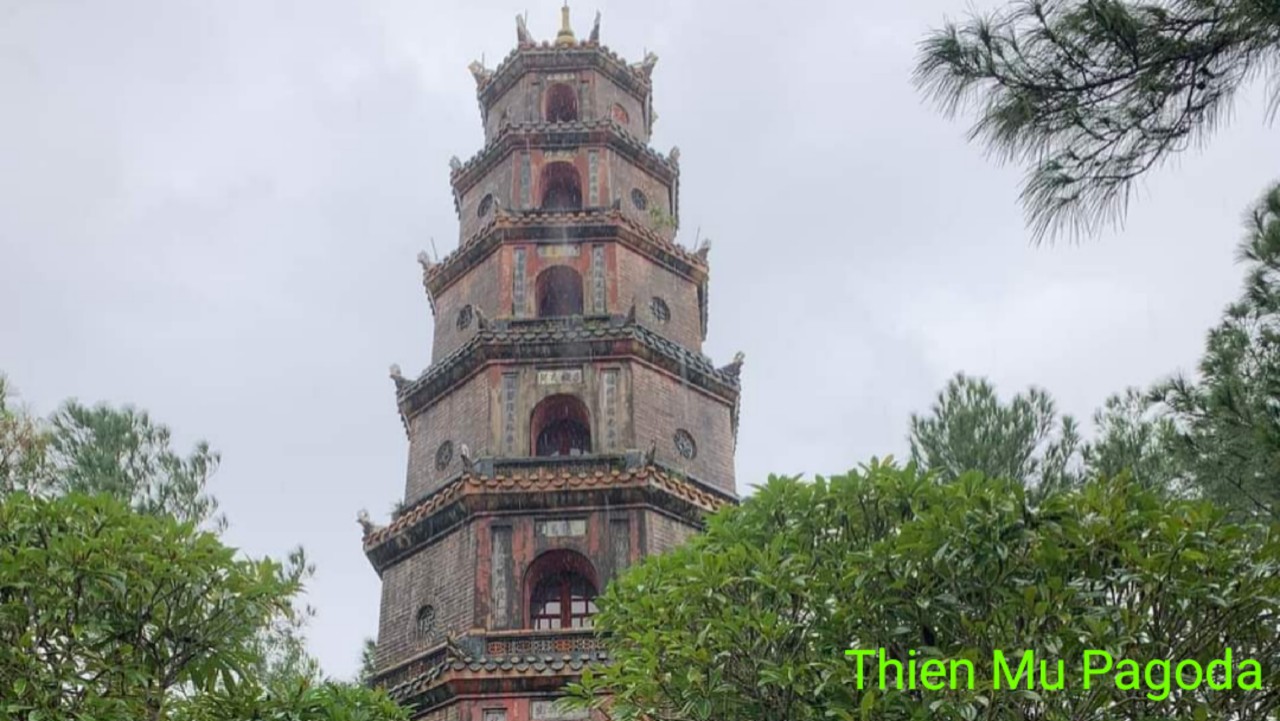 Finishing this, then our Hue Biking Tour continues to a symbolic Buddist Pagoda in Hue – Thien Mu Pagoda.  So, this pagoda was built in 1601 and became the holy spot for many Nguyen Emperors coming here for leisure and composed poetry. This is an ideal spot lying on the hilltop overlooking Perfume river as well.
Reaching this site, we then walk up and sightseeing 7 – storey Phuoc Duyen tower, then go inside to Dai Hung Sanctuary where people come to pray. Simultaneously, we then head to the back yard finding out how the Buddist monks live and their living arears.
ROYAL TOMB OF TU DUC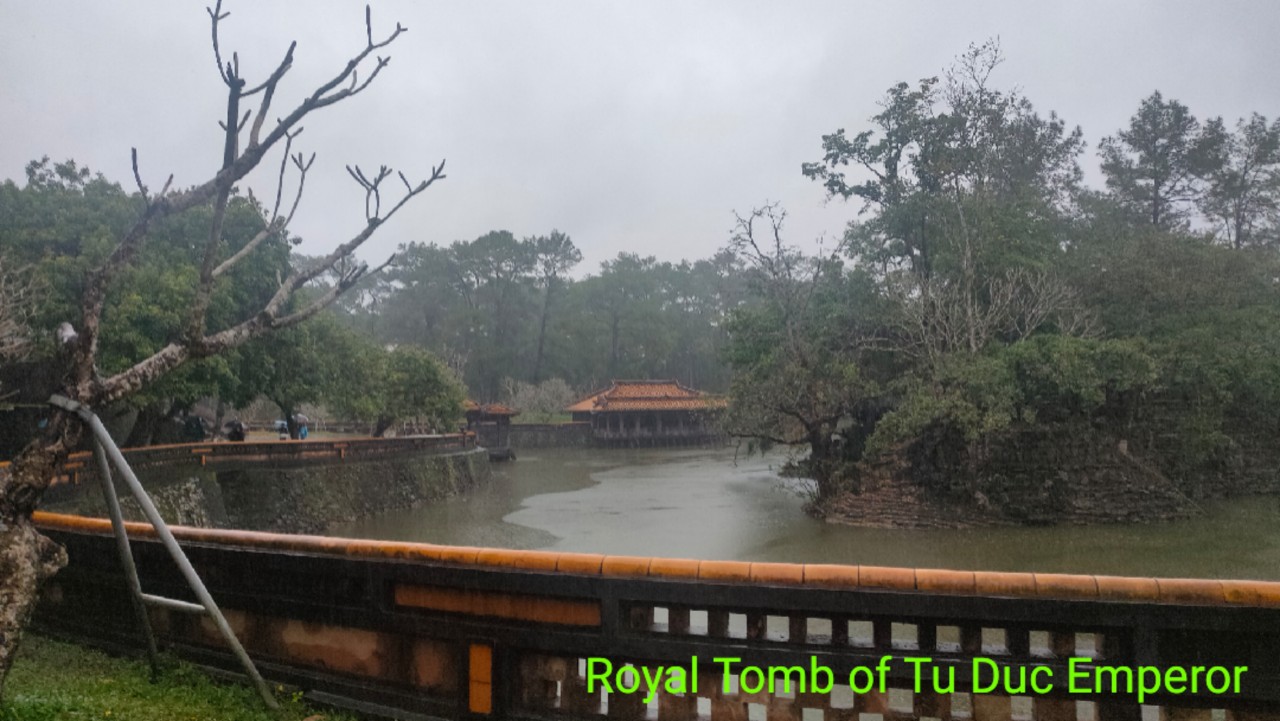 Moving on our Hue Bicycle Tour, we hop on our bicycles again and then follow the main road, heading to the tomb of Emperor Tu Duc. Hence, this is a lovely Feng Shui spot that was reserved for Tu Duc Emperor in the old days. The tomb built in 1867 and strongly had Chinese influences with small hills, lakes, temples, burial places…Coming to this area, tourists will know more the Feng Shui concept as well as the royal life and daily working activities of the Nguyen King.
Upon finishing, we can have a short break in a local restaurant for you to sample some of Hue's specialties.
After lunch, we are going to explore tomb of Minh Mang Tomb. On the way, we will come to a family business to witness how the local people make incense and conical hats. This is a truly experience for you as you will have a deep insight into the local culture.
Ending Hue Bicycle Tour, we will follow the countryside road heading back to our hotel. Then our Hue Biking Tour will come to an end here. We wish you had the best time with PTV.
HOW YOU ENJOY HUE BIKE TOUR?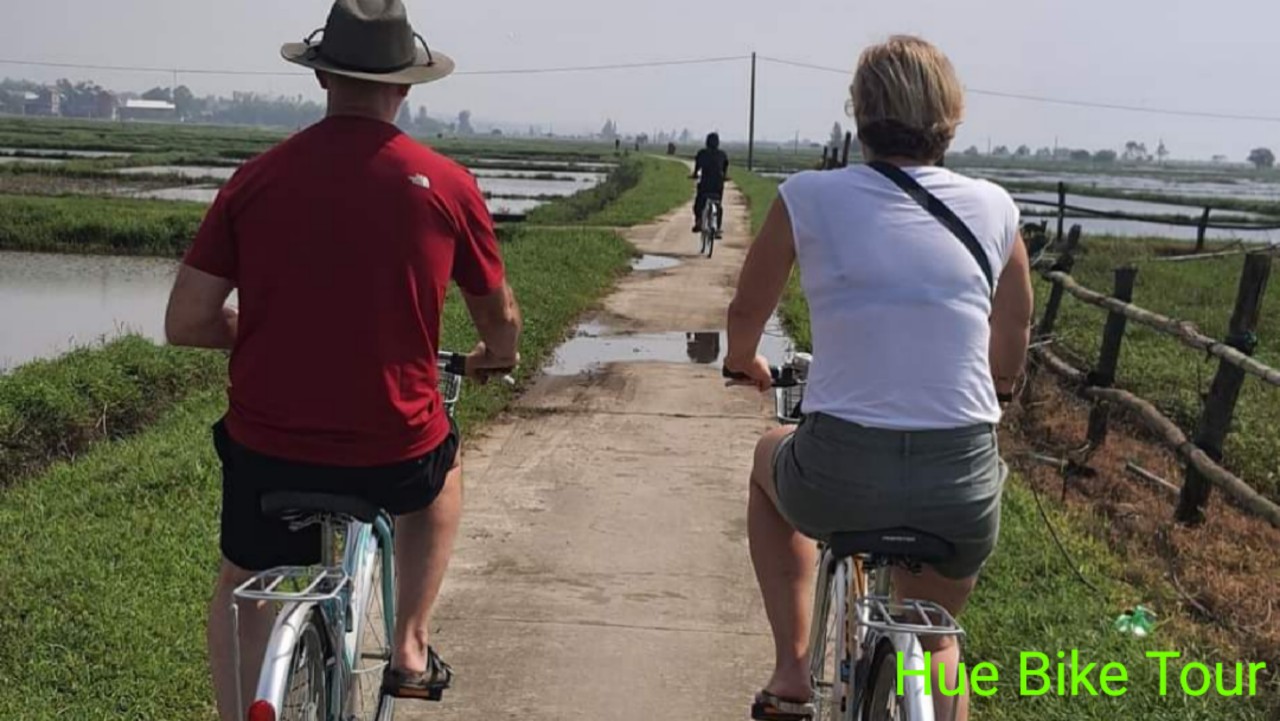 GOOD FOR HEALTH
Taking part in Hue Bicycle Tour with us, it will help you have the blood flow which is gently stimulated in a circular motion. It is good that is stabilizing muscles and core muscles for yourself. Besides, a bike ride in Hue can help you to burn tons of calories in order to maintain good fit for your body.
TAKE UNBEATEN PATH IN CYCLING
In this Hue Cycling Tour Half Day, Premium Travel Vietnam takes you through some of the most beautiful landscapes of Hue's lush scenery, discover some best hidden areas of Hue as well as taking the road that is unbeaten by the regular travelers.
CULTURAL INSIGHT
A part of our Hue Bike Tour is to help you understand the local cultural beliefs, interact with the locals to know their daily life. You can find out more unique customs and habits of Hue local people.
WHERE TO RENT A BICYCLE IN HUE?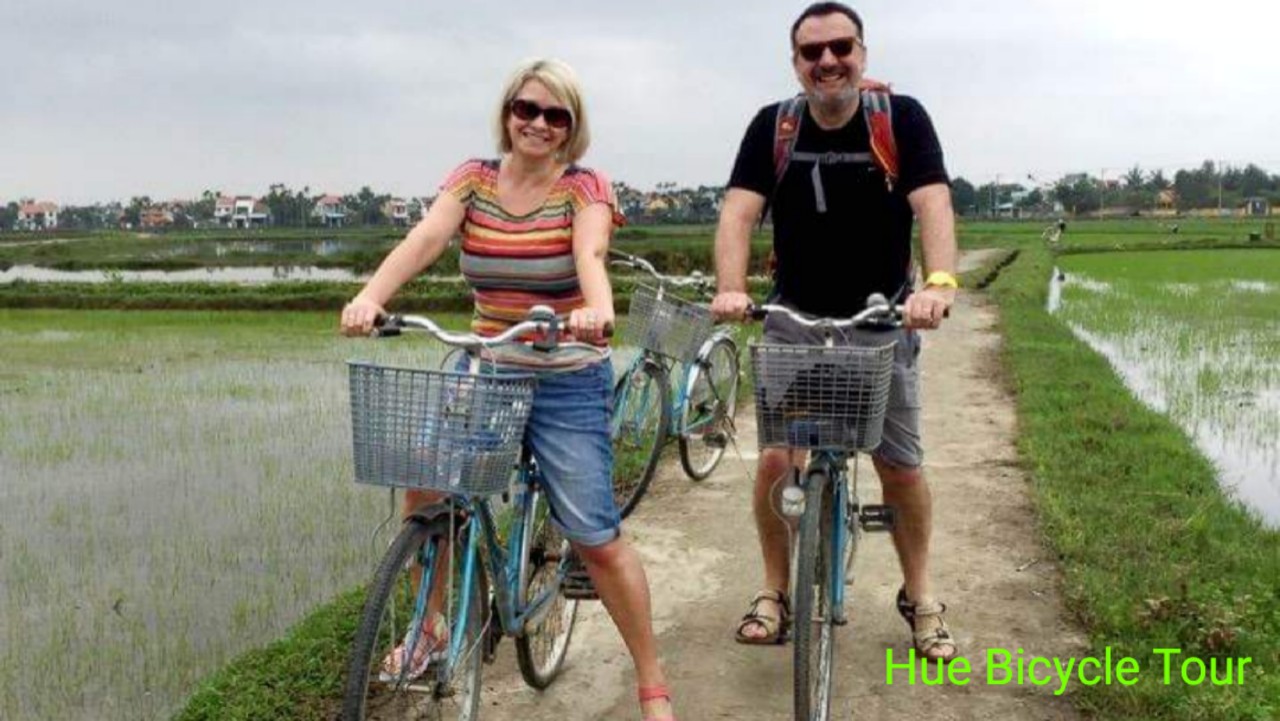 IN HUE DOWNTOWN
One of the few locations in Vietnam where you may rent bikes with a reasonable price is Hue city. In fact, most hotels provide simple bikes that are suitable for short trips around the city center. Therefore, for some of the longer cycling trip, a bike with gears will be more advantageous. So, if you want to hire a bike with gears, you can stroll down to Pham Ngu Lao and Vo Thi Sau streets where you can find some stores with bicycles for rent half day or full day.
VIA TRAVEL AGENT
Premium Travel Vietnam is one of the best travel agents in Hue that you can contact to rent many high quality bikes.
SUGGEST SOME HUE CYCLING ITINERARIES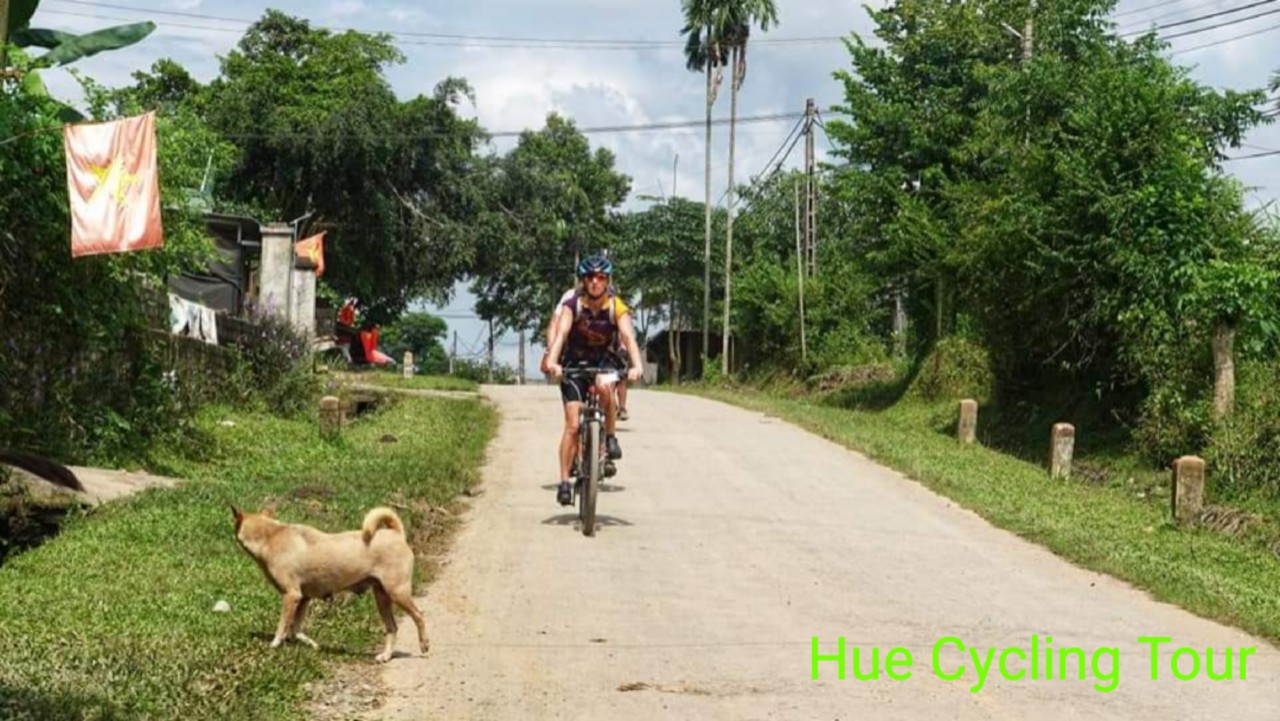 Hue Cycling Itinerary 1: short bike ride with some key attractions of Hue Citadel, garden houses, and Thien Mu Pagoda
You can begin Hue Half Day Bike Ride with the ride from your hotel heading to Hue Citadel which is located on the other side of the Perfume river. Thus, you can cross the city's most important historical site under the French colonial – Trang Tien Bridge.
Reaching Hue Citadel, you can lock up your bikes and start to visit Hue Imperial city to get a sense of the size of the citadel, then ride around its perimeter. Thus, you will enjoy some of the citadel's narrow streets.
After exploring the site, you will proceed towards An Hien Garden House by following the Perfume River. Hence, view a classic home and temple built in 1895 that are situated in beautiful gardens. Next, head your trip to The Thien Mu Pagoda, the country's most stunning place of worship built in the 17th century. Thus, capture some of best pictures of this well know place then take a quick bike back by crossing the Da Vien Bridge.
En route, you can sightseeing Hue's railways station together with Quoc Hoc School (Hue's National Highschool) and some French influenced buildings along Le Loi street before heading back to your hotel.
The round trip of this bike tour is from 15 to 20 kilometers with relaxation on the way for photographs.
Hue Cycling Itinerary 2: The long bike ride with the top sights of Khai Dinh's and Minh Mang's as well as Gia Long's Tombs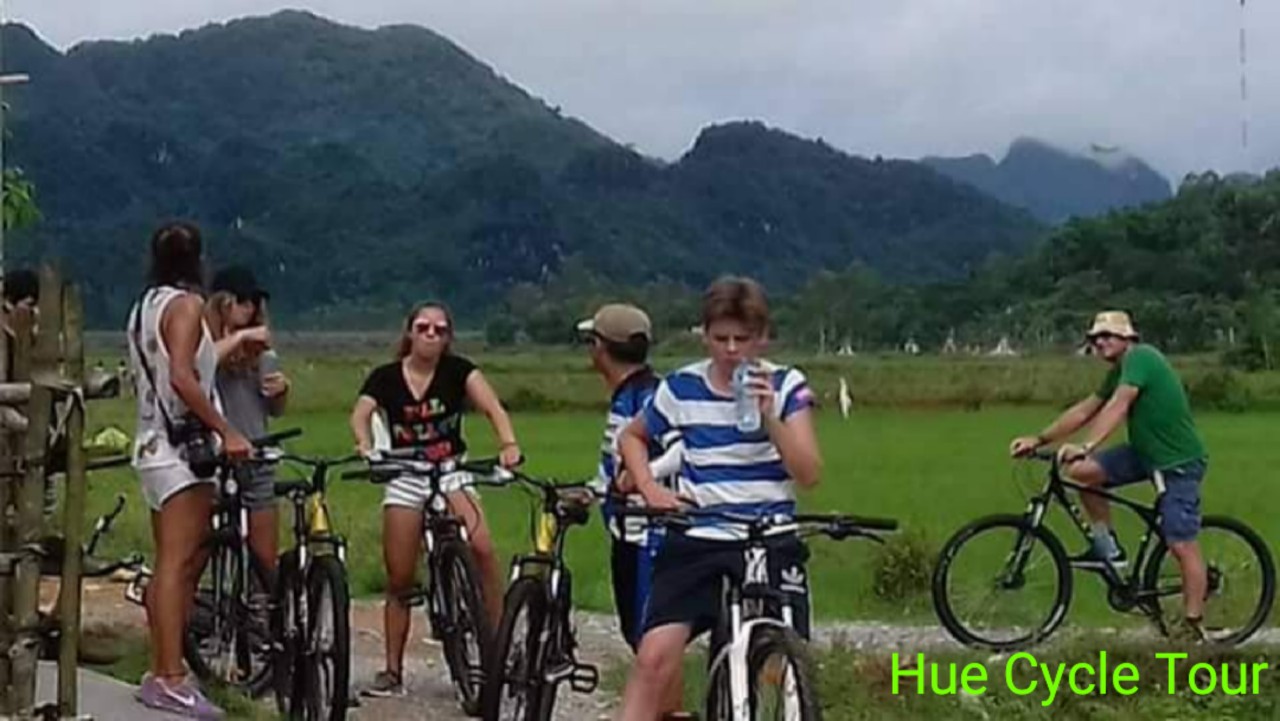 So as to make a longer bike ride in 1 day in Hue, you can take the bike ride to Khai Dinh's Tomb and then Minh Mang's Tomb and proceed to Gia Long's tomb from Minh Mang's Tomb. Thus, his mausoleum is in a lovely location and receives few visits. Gia Long's Tomb is around 8 kilometers separate from Minh Mang's Tomb and 18kms away from Hue center. In this trip, you will cover roughly 50-60 kilometers by bicycles and if you want to engage in more rigorous cycling. The ruins of Nam Giao, the Nguyen Dynasty's spiritual center, are also accessible.
Hue Cycling Itinerary 3: Hue's National High school – Hue Catholic Cathedral – An Dinh Residence and cool streets of Hue's former Chinatown.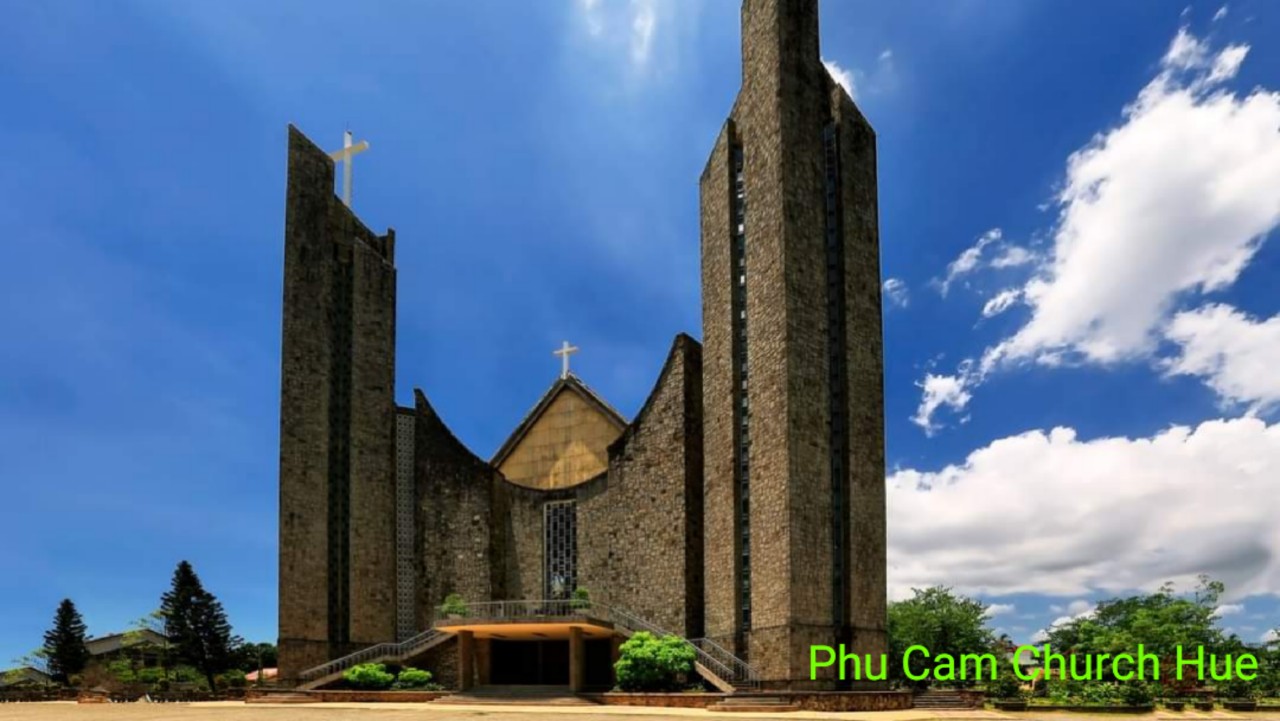 Start off your Hue's Bike Tour with a peaceful bike ride along Le Loi street and the Perfume River heading to Quoc Hoc School – Hue's National School. Here, Ho Chi Minh and other notable historical leaders from Vietnam attended school. There is a colonial complex with a fascinating history that you might not be able to enter, but it's still worth a look. A reminder of the cost of French colonial control is the memorial to Vietnamese lives lost in World War I, which is located across the street.
From Hue's National School, follow Nguyen Truong To to get to the main Hue Catholic Cathedral (Phu Cam Cathedral. After visiting, head to Cung An Dinh (An Dinh Residence) – the historic royal home on Phan Dinh Phung Street.
From Phan Dinh Phung Street, you can return to Hue's center and turn right after crossing the Trang Tien Bridge, also known as the Truong Tien Bridge. Before exploring the Chi Lang neighborhood and Bach Dang street, you can take a peek around Dong Ba Market. In each of these locations, there is a wealth of architecture, temples, and street cuisine to discover. Besides, Old Hue's Chinatown was located in Chi Lang area that you can discover as well.
SAFETY ADVISORY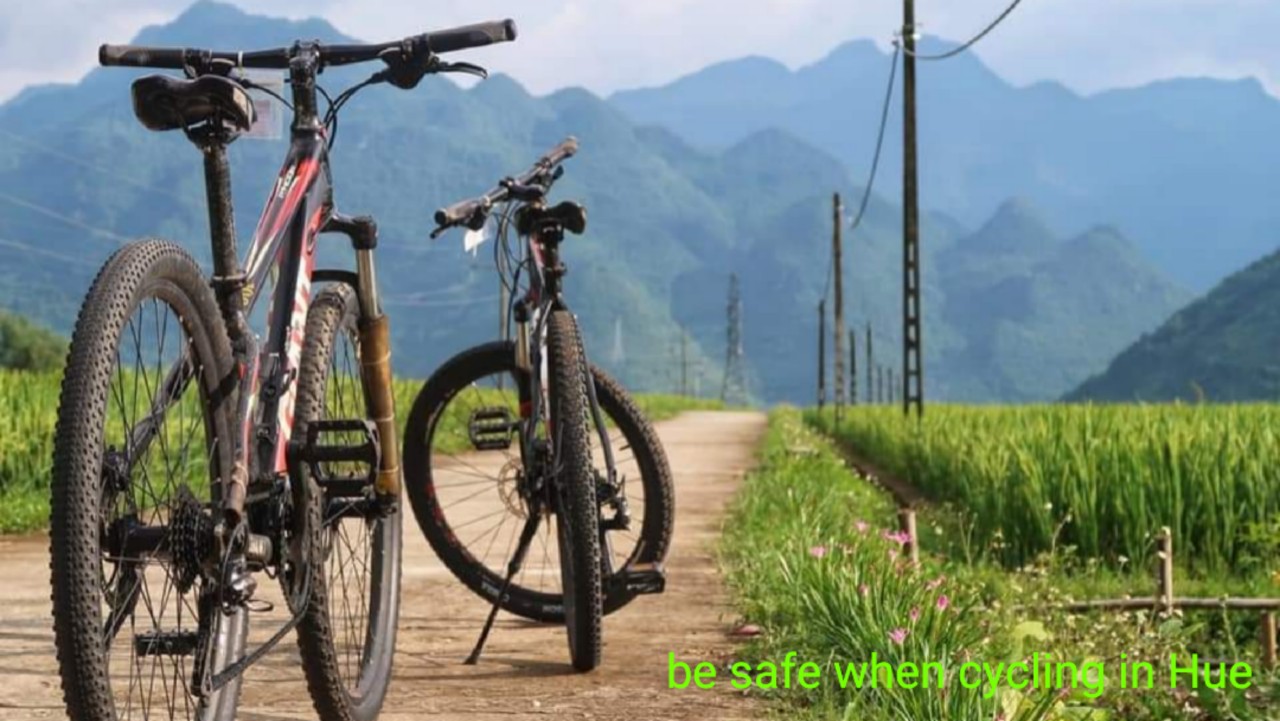 Although Hue is among the safest cities in Vietnam to cycle, Hue's principal roadways are growing increasingly congested and unsafe. Be cautious.
Always use both front and rear brakes of the bikes for the safety and follow the guide's instructions (if having the guide).
Drive the bikes on the right side of the streets and close to the pavement to be safe.
Let's wear bike helmets for protection.
Always lock up your bikes when unattended.
HUE CYCLING TOUR Price?
Tour price
Please send an email to us at premiumvietnamtravel@gmail.com or contact us at Whatsapp at 0084 979613777 for more information and details about Hue Cycling Tour. We are honored to serve you.
Tour inclusion

Tour exclusion

– Standard bicycle with helmets

– English speaking guide

– Entrance tickets

– Cold water and wet tissue

– Travel insurance

– Other expenses

– Soft drinks and beverages

– Tips and gratuities

Things to bring

Travel tip

-Fully charged camera; Sun cream; Climbing shoes; Caps/hats; Sun glasses; Insect spray; Shoulder covers

In months of October, November, December, January, February; it normally rains in Hue, let's bring rain coats with you. For the rest of the year, it is usually hot and humid.
Remarks
Tour departs from Hue city only and is conducted in good weather conditions. We will not organize the tour in case of bad weather.
HOW TO BOOK HUE BIKING TOUR?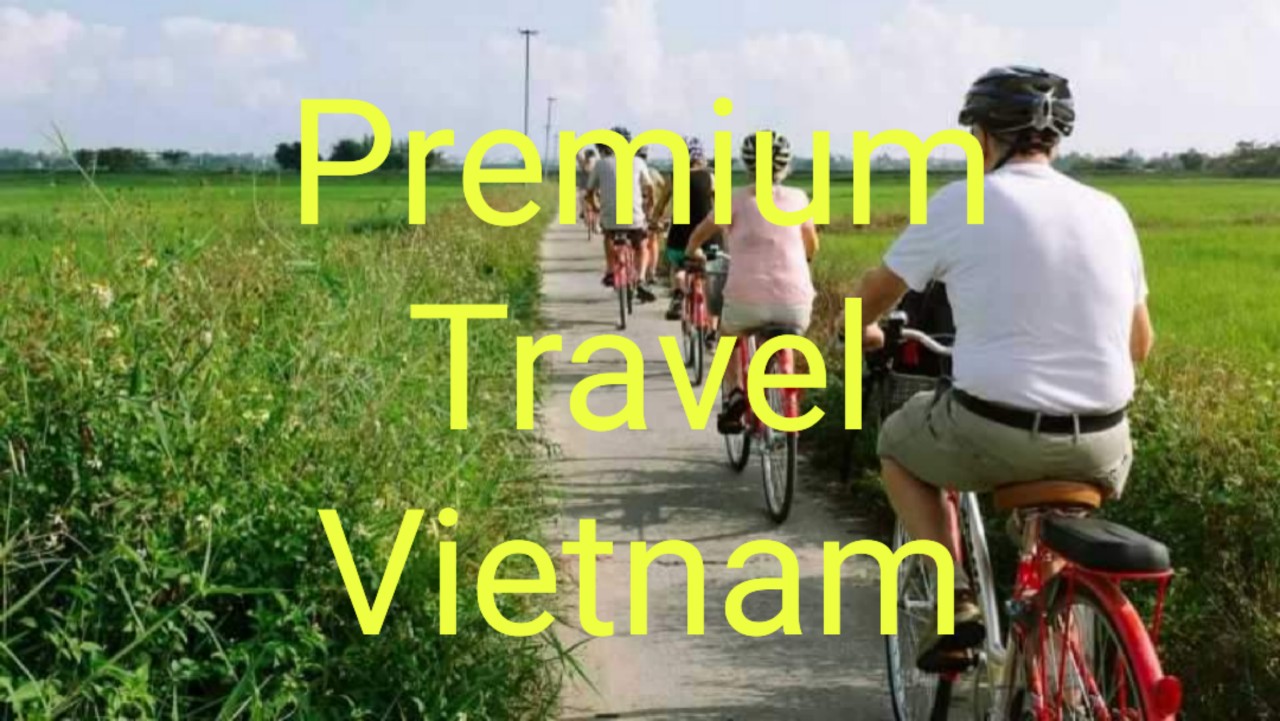 So, if you come to Hue city and would like to find a professional travel agent with best services for Hue Biking Tour, do not hesitate to contact us:
Website: https://premiumtravel.info/tours
Email: premiumvietnamtravel@gmail.com
Whatsapp/Viber at 0084 979613777
We highly respect your choice and make your trip a meaningful one
Copyright by Phong Nha Pioneer Travel, see the original link here