General
Hoi An is not only well – known for its special ancient town, fantastic local cuisine, long – tradition culture, hundred – year – old houses and buildings but Hoi An is also famous for its super tranquil countryside. So, there are many traditional villages that are still well kept by the locals. Thus, this adds another part of visit for travelers coming to this unique old town of Hoi An. So, to help you discover one of the traditional villages in this town and discover the fishing life of local fishermen as well as taking basket boat (round boat) on the river. Therefore, Premium Travel Vietnam (PTV) organizes Hoi An Basket Boat Tour.
STORY OF HOI AN BASKET BOAT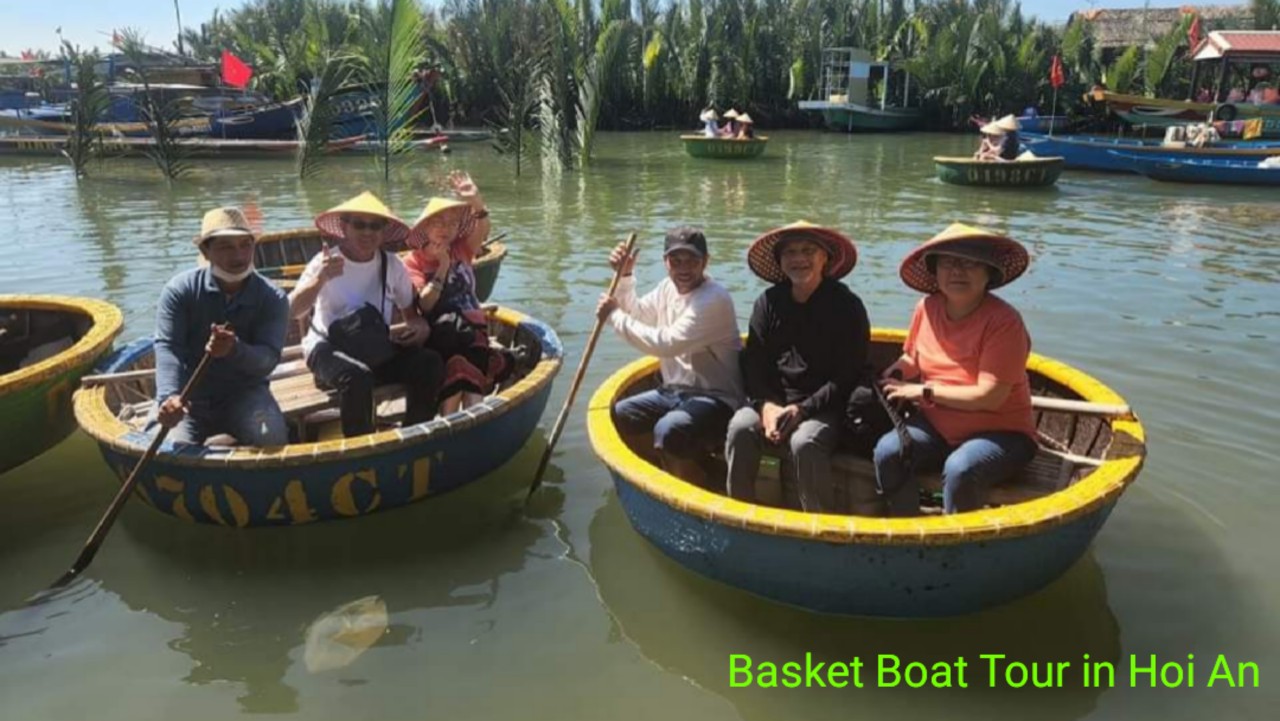 Legend has it that when the French started charging tax on boats in Vietnam, the local Vietnamese fisherman couldn't pay the tax, so they were so creative to make a circular, woven "baskets" that worked as boats so that they did not pay tax to the French people.
HISTORICAL ROLE OF 7 HECTARE COCONUT FOREST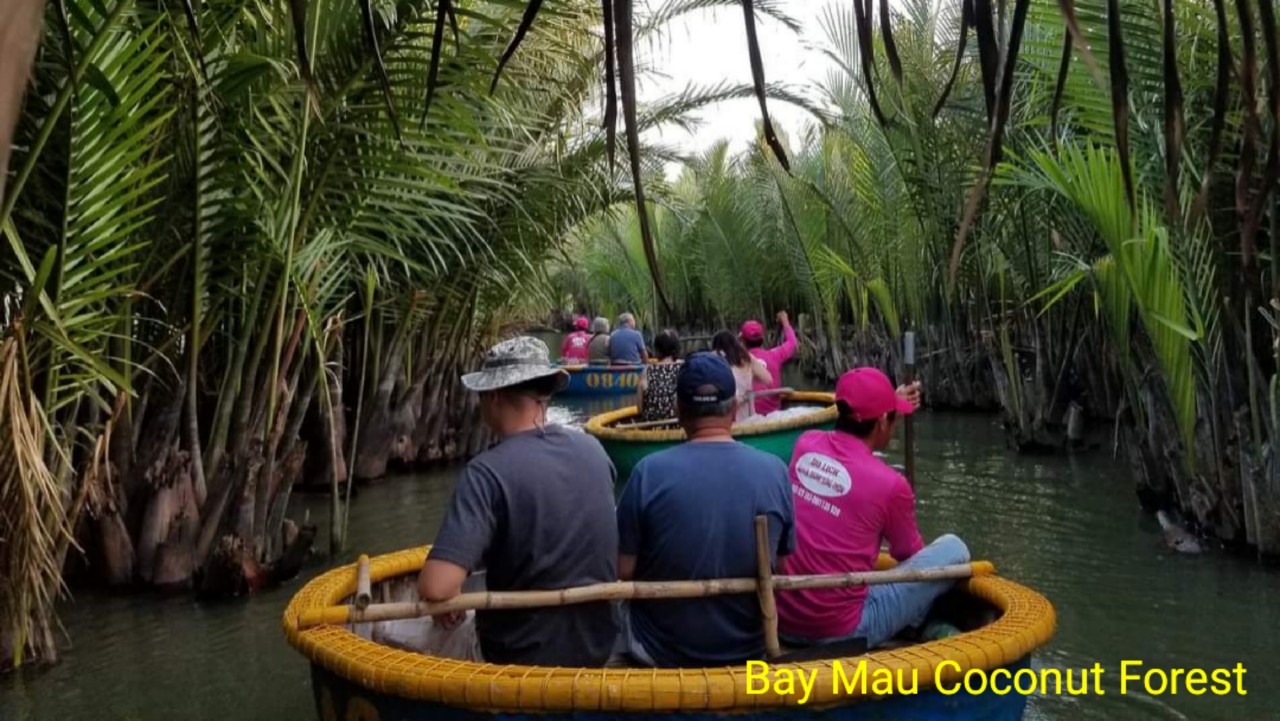 The landscape of Bay Mau Coconut Forest is a mangrove forest, which is covert and surrounded by rivers, making it ideal for the growth of guerilla warfare. The Hoi An Town Committee selected this location as a revolutionary base to fight from throughout the years of resistance against the French and the Americans.
The local guerilla forces used the Bay Mau Coconut Forest's covert terrain to their advantage throughout the years of struggle against the French people. They organized numerous surprising fights and defeated enemy attacks using artillery and air support.
After Hoi An Town Party Committee and Quang Nam Provincial Party Committee won the resistance war against the French and the Geneva Agreement was signed in 1954, Bay Mau Coconut Forest served as a haven for many revolutionary cadres.
SOME STEPS TO MAKE BASKET BOAT IN HOI AN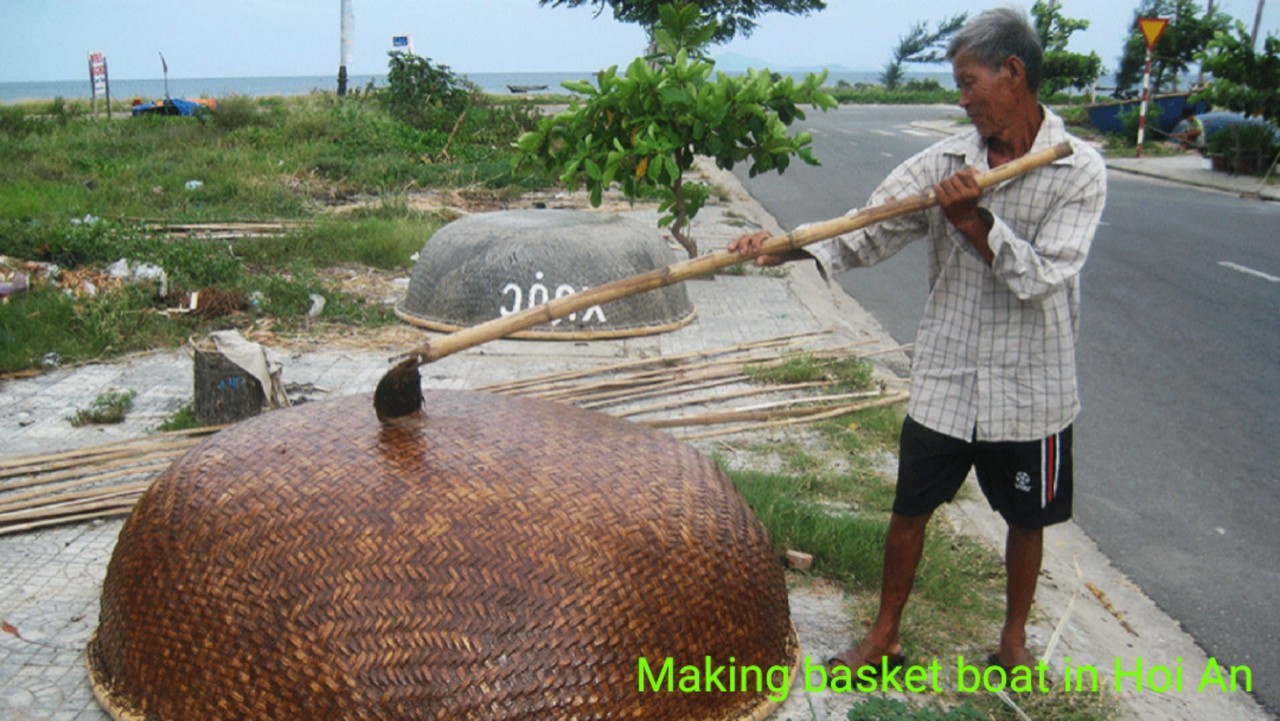 The locals of Hoi An Coconut Village continue to build basket boats the old-fashioned way. Just like elsewhere else in the country, this is passed on from father to son. The main component, bamboo, is harvested and selected in the spring when the quality is at its best. Here are some steps to weave a round boat in Hoi An:
Choosing to purchase bamboo is the most challenging step in creating a basket boat. Because the best bamboos for sharpening are those that are straight, robust, and less knags. In particular, certain bamboo is borer-free.
The bamboo is carefully chosen and bought, then sawed and divided into various pieces to fit the size of the boat. About 25 bamboos are needed to make a boat.
The art of knitting basket boats takes skill, creativity, and attention to detail.
At this step, wooden stakes that have been driven into a circle will be used to make a mold for a basket boat. To build the rim, 3-5 bamboos are required, depending on the size of the boat.
The boat's rim is compressed with a tool to make it tighter, and the artisan then grabs the rope to fasten the rim and the bamboo spokes.
To have a stunning and high-quality basket boat, this is one of the most crucial and challenging procedures.
After covering the surface of the basket boat with a coating of cow dung, the worker will apply Dipterocarpus alatus Roxb oil to assist waterproof and preserve the boat so it can be used for a longer period of time.
When it's sunny, you can oil the surface uniformly and ensure that the oil dries evenly. The oil needs to dry for 3–4 days.
HOI AN ROUND BOAT TOUR ITINERARY:
HOI AN RIVER CRUISE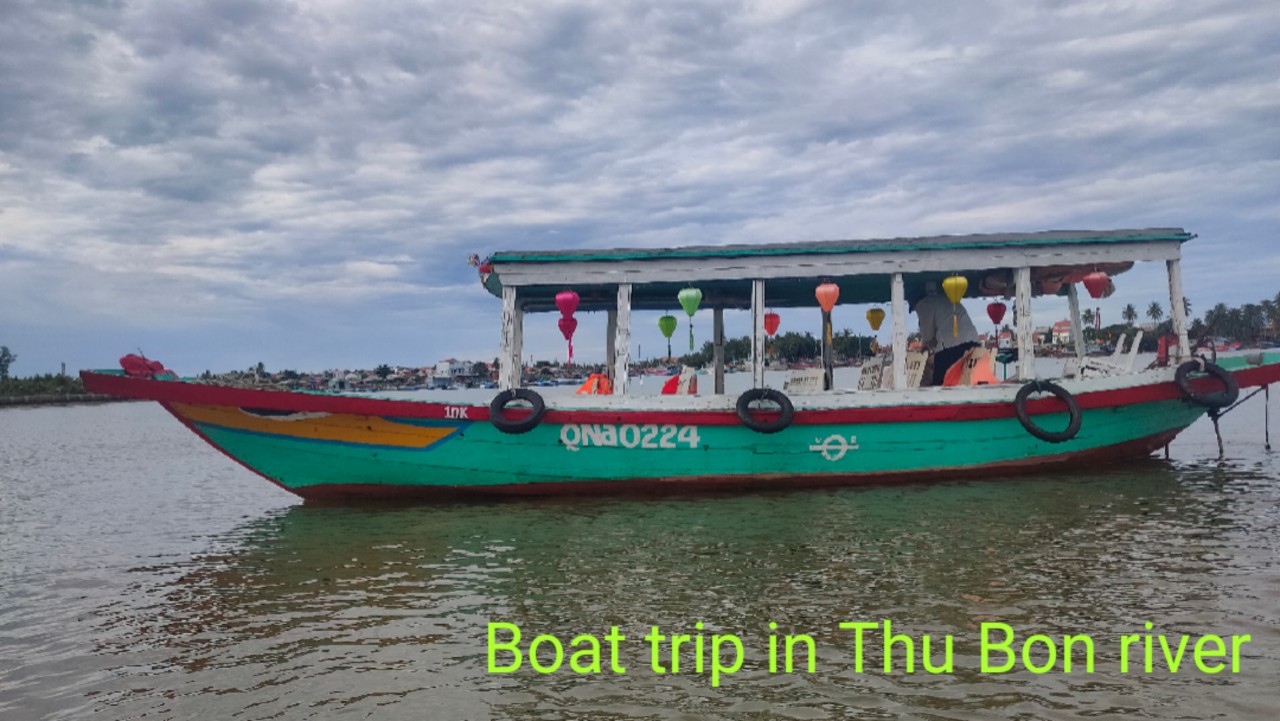 Today, we will experience Hoi An Basket Boat Tour with Premium Travel Vietnam. So we will come to pick you up at the hotel and transfer to Hoi An dock. Then we start taking boat cruise downstream on Thu Bon rive to Cua Dai estuary. Along the way, you will have an opportunity to find out the fishing life of local people in Hoi An. So, the landscape of Hoi An's rural areas on two sides of Thu Bon river is really picturesque. And if we see a fisherman fishing on the river, your camera is ready to take great pictures when he is throwing the fishing net into river. Possibly, you can have a talk with him to know more of his daily life.
After that, we keep cruising our boat heading to Cua Dai estuary. It will be a great chance for you to see fishing life of Hoi An people.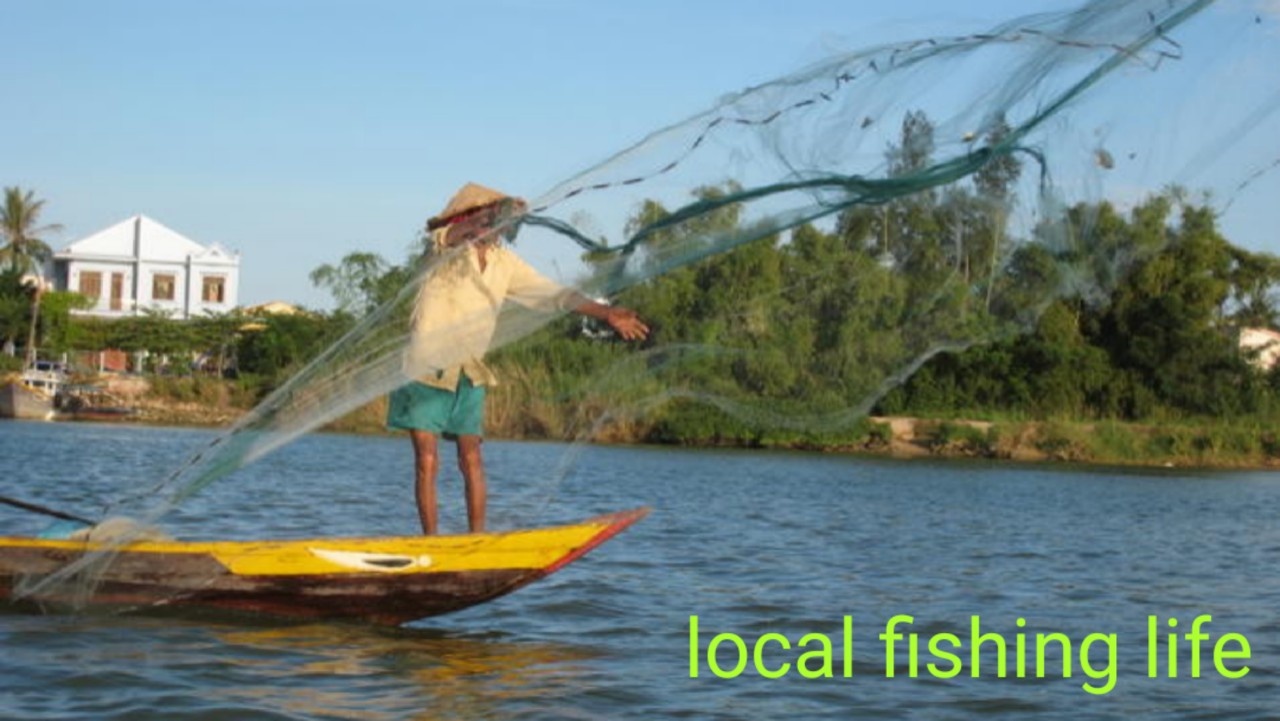 Then to continue our Hoi An Basket Boat Tour, we are heading to 7 – hectare Cam Thanh water coconut forest and we will go by some of very tranquil coconut palm – flanked waterways. A quiet rural village appears in front of our eyes and you will feel how relaxing the scenery is when you stay away from hustle in Hoi An center.
At arriving, you can firstly take a seat to take some beautiful photos or view the peace of area and enjoy a fresh water coconut. Following the tour are some thrilling and interesting stories of a past war led by a local villager about what happened in 1960' when Viet Cong guerillas were hiding here.
BASKET BOAT EXPERIENCE
Afterwards, we then get on basket boat (round boat) to go further in coconut forest and the boat rider will instruct you how to run or paddle this boat. You will see how funny and exciting the ride is! Moreover, she will tell you how to make some origami artwork from coconut leaves as well as trying to catch little purple crabs for fun.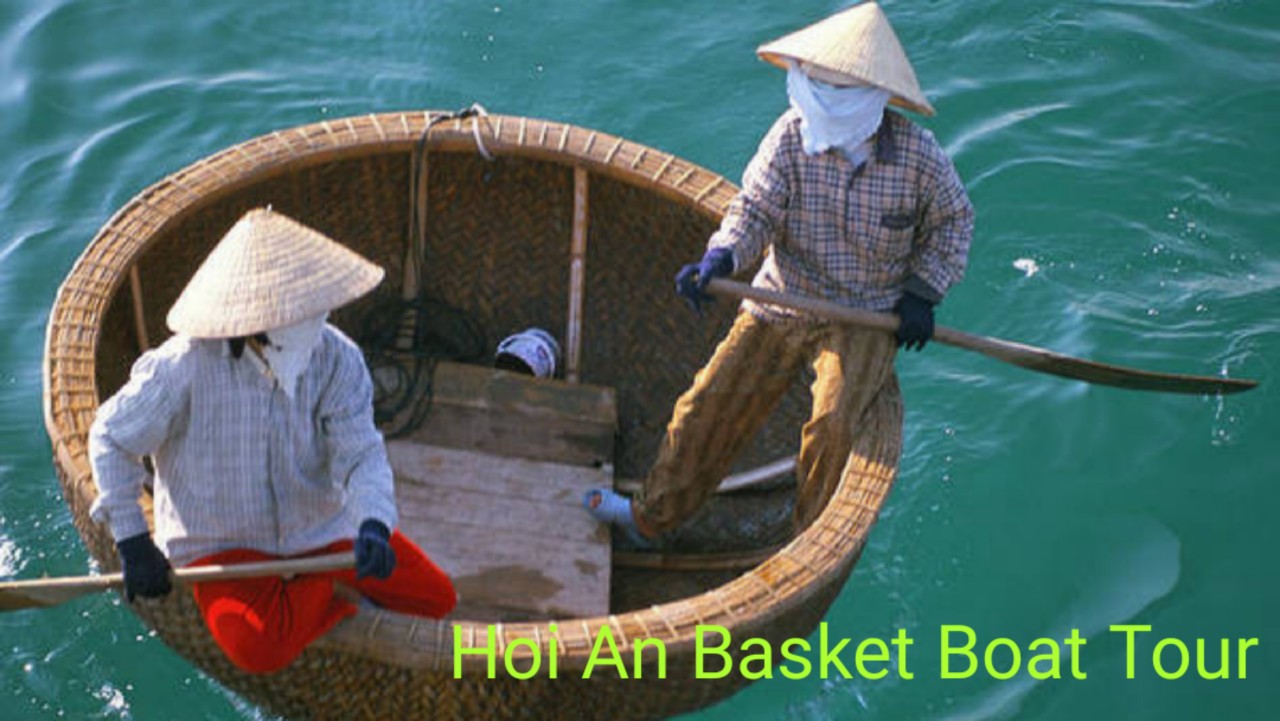 Moving on our Hoi An Round Boat Tour, we will keep paddling to enjoy round boat performance by a local guy and even coracle boat racing competition on the river if you have a chance. You will definitely have a huge fun out here. Eventually, we will take you to a local restaurant nearby for lunch with some of Hoi An's local dishes. And lastly, our guide and driver will come to take you back to your hotel. Then our Hoi An Basket Boat Tour will come to an end here.
HOW DO YOU ENJOY HOI AN ROUND BOAT TOUR?
First, this is probably the best Hoi An Basket Boat Tour, so if you participate in this tour with Premium Travel Vietnam, you will have a full range of fishing life activities from learning to cast fishing net into river to paddling unique basket boat in Hoi An. Therefore, Tin Basket Boat Tour Hoi An gives you an insight into Vietnamese fishing culture as well as harmonizing yourself into an authentic local fishing life.
Basket Boat Tour Hoi An Price?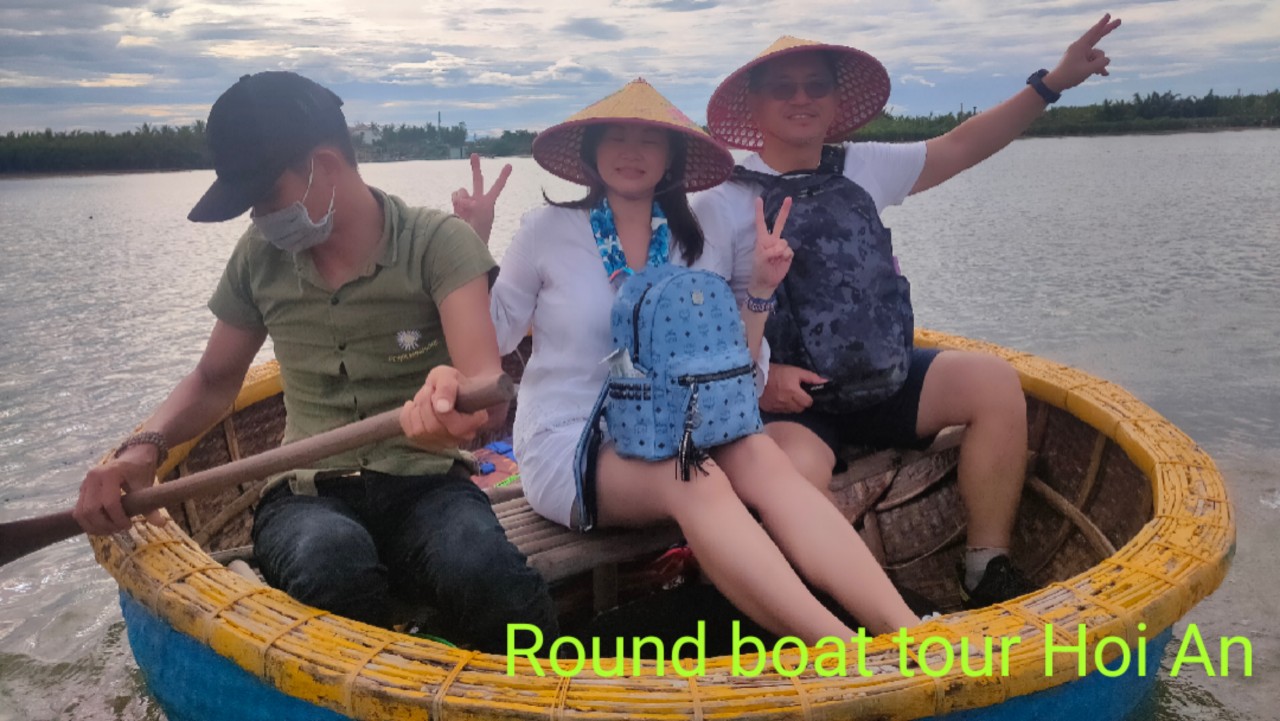 Price
Kindly send an email to premiumvietnamtravel@gmail.com or text/call us via Whatsapp at 0084979613777 (Mr. Viet) for more details and assistance about Basket Boat Tour Hoi An. We are honor to serve you and always at your service.
Tour inclusion

Tour exclusion

– 4 – seat private car with air conditioning and hotel pick up and drop off

– Experienced driver

– English speaking guide

– Entrance ticket

– Cold water and wet tissue

– Lunch

 

– Travel insurance

– Other expenses

– Soft drinks and beverages

– Tips and gratuities

Things to bring

Travel information

-Fully charged camera; Sun cream; Sandals or shoes; Caps/hats; Sun glasses; Insect spray

 

We might see lots of Korean and Chinese tourists and hear dancing music at coconut forest because it is a popular place for them.We will not organize the tour in case of bad weather i.e storms, typhoons, flooding…
HOW TO BOOK Hoi An Basket Boat Experience?
So, if you come to Hoi An or Da Nang and would like to find a professional tour operator with best services for Hoi An Basket Boat Experience, do not hesitate to contact us:
Email: premiumvietnamtravel@gmail.com
Whatsapp/Viber at 0084 979613777
We highly respect your choice and make your trip a meaningful one
Copyright by Phong Nha Pioneer Travel, see the original link here
SOME TIPS TO TRAVEL TO BAY MAU (7 HECTARE COCONUT FOREST)?
BEST TIME TO COME
Best time to come to Bay Mau Water Coconut Forest is from January until September. Between January and April, the weather is pleasant and sometimes cloudy due to monsoon; then from April to end of July is the summer time so it is quite hot. However, Bay Mau is a lush green forest that creates lot of shade for visitors. Therefore, you can mostly visit the forest anytime of the year except the rainy season.
ACTIVITIES TO DO AT CAM THANH WATER COCONUT VILLAGE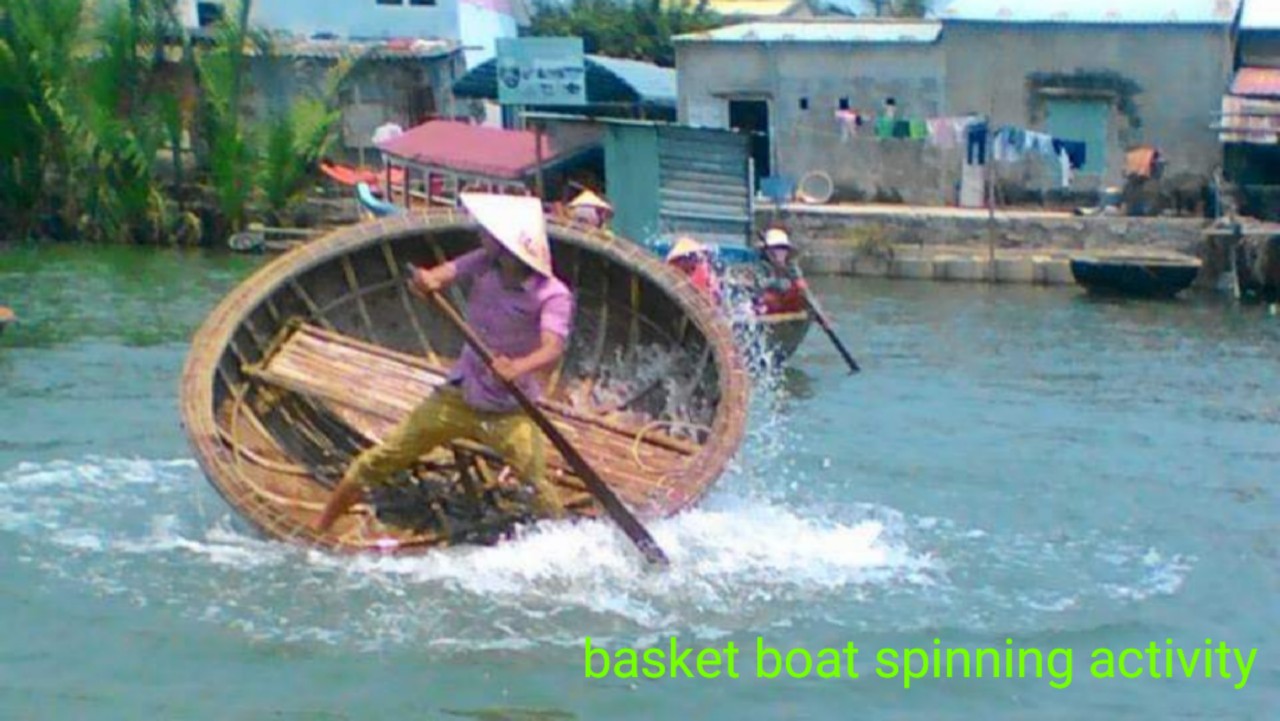 Learn to row a basket boat
Reaching Bay Mau Coconut Jungle, learning how to paddle a round boat is an interesting part of Hoi An Basket Boat Tour. You should have no worries as the locals will instruct you how to paddle it and make it a go.
Seeing basket boat spinning
Not only learn how to ride the basket, you will watch the spinning basket boat show by some local guys with a big fun. If you are interested in this, you can jump on the boat and have it a go with the guys. You will have a big laugh.
Watch the locals demonstrate fishing
If you come from the city anywhere in the world and have not seen how the fishermen catch fish from the river. This is an opportuntiy for you how the local Vietnamese cast the fishing net. You can of course get on the wooden boat and learn how to toss the fishing net with a big shape.
Make Origami souvenirs
Finally, you can get some souvenirs making from coconut leaves such as jumpers, watches, rings and so on.
HOW TO GET BAY MAU FROM HOI AN AND DA NANG BY CAR OR MOTORBIKE?

From Hoi An:
If you are from Hoi An city center then follow Cua Dai street on the way to the beach then make a right turn at Vo Chi Cong street. If you keep going around 1 kilometer more then make a left turn and you will reach the place.
From Da Nang:
You can just keep follow the coastal road connecting Da Nang and Hoi An then cross over De Vong Bridge upon arriving in Hoi An. Then, you keep riding along Vo Chi Cong street and pass over Casamia resort then you can make a left turn to reach Cam Thanh Village where Bay Mau Forest is located.
HOI AN BASKET BOAT RIDE ITINERARY SUGGESTIONS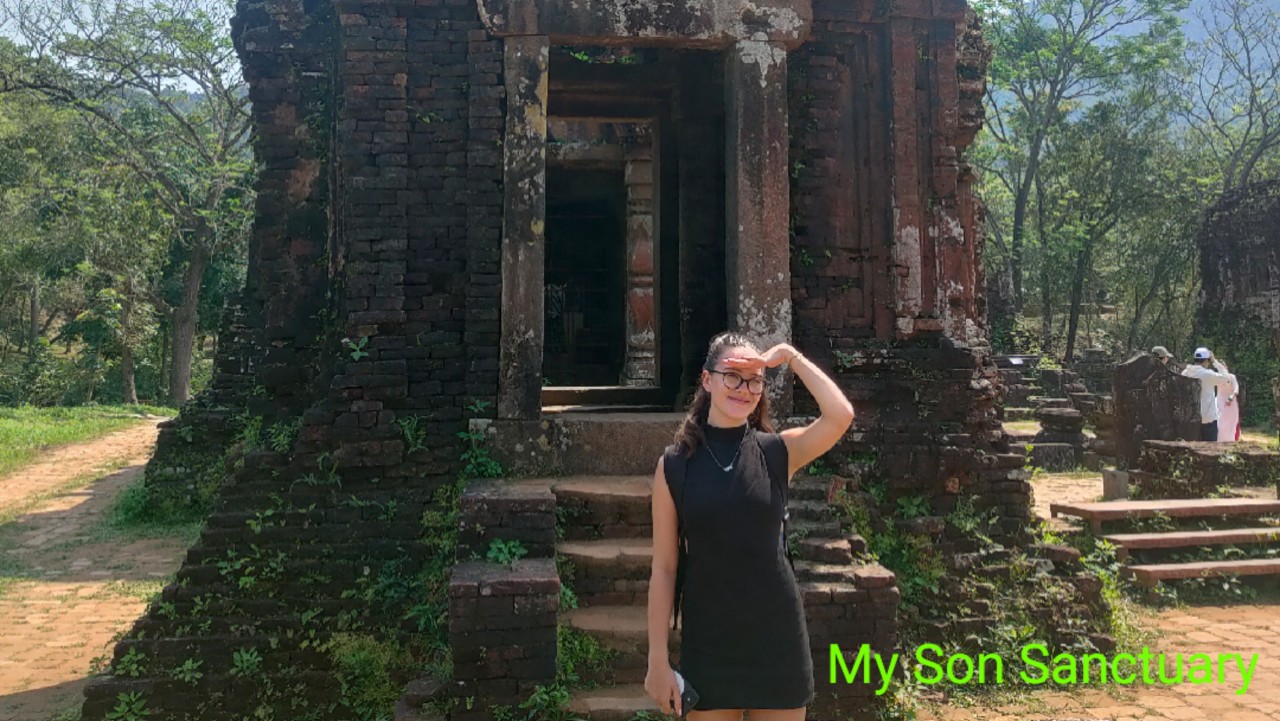 MY SON SANCTUARY – HOI AN CITY TOUR – BASKET BOAT TOUR FULL DAY
Travelers can choose to take a full-day itinerary to visit to Hindu Temple Complex (My Son Sanctuary) then go back to Hoi An for city tour then going to Cam Thanh Village for the basket boat ride.
BIKE TOUR TO TRA QUE VEGETABLE VILLAGE – FARMING ACTIVITIES – BUFFALO RIDE – BOAT CRUISE – COCONUT BOAT RIDE HOI AN
From the hotel, you can ride a bike to sightseeing Tra Que herbs village, knowing how the locals grow herbs with organic fertiliser then you can learn how to till the soil, grow herbs then water the garden. Then bike to have a fun on water buffalo before boarding a boat cruise on Thu Bon river to see the scenery. Lastly, you will visit Bay Mau Water Coconut Forest and do Basket boat ride.
 DA NANG CITY TOUR (MARBLE MOUNTAINS – LINH UNG PAGODA – CHAM MUSEUM – HAN MARKET – HOI AN ROUND BOAT TOUR)
You will travel to Da Nang from Hoi An and first visit Marble Mountains, explore some Buddist temples and caves before heading to Linh Ung Pagoda to pay a visit to Vietnam's highest Lady Buddha statue (Kwan Yin statue) – 67 meters high. In addition, you can grab some best pictures of Da Nang's coasts then be off to Cham Sculpture Museum to know more about Hinduism in Vietnam. Later, a short visit to Han market to check out all local items and goods are on display. And finally on the way back to Hoi An center, you can do Hoi An Coconut Boat Ride.
– THE END –